Connecticut Free License Plate Lookup
Consumers have the right to learn a car's history, especially if the details are relevant to their driving. Problems may arise if their expectations are not met. To make sure that you pay for what you expect, you need to dig deeper than what the seller is telling you.
VinCheck.info offers free license plate lookup that will reveal past ownership, title information, liens, odometer reading and salvage records. Search license plates registered in the state of Connecticut:
You can check out the public records contained in the Connecticut DMV's database. Use the public records to learn vehicle details unavailable from other sources. If you have inquiries, you may contact at: 860-263-5700 / 800-842-8222. You may also visit the Contact Us page.
Connecticut License Plates & Placards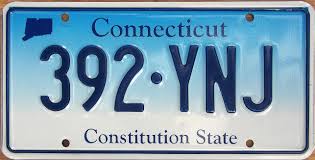 You will have 60 days to transfer your vehicle registration to the state after establishing your residency. Some motor vehicles must undergo a VIN verification, while vehicle units that are older than 20 years old are not required to be titled. In addition, most vehicles must undergo emission testing. However, some vehicles are exempted from such rule. Connecticut's Division of Motor Vehicles produces the state's official license plates. The standard serial format of Connecticut license plate consists of three letters and three numerical digits. Each vehicle must have two plates, one for the front and another on the rear.
Request replacement plates online if your current plate is damaged or missing.
Types of Connecticut License Plates
There are eleven (11) types of plates being issued in the state of Connecticut. Please be aware of the requirements for each style of plate.
Special plates can be requested through an online application, or by filling out the application form.
Transferring of License Plates in Connecticut
You can request the transfer of a license plate in Connecticut. For further instructions on how a license plate transfer is processed in the state, you may visit the Transfer Your Plate page.
More Resources for Connecticut Drivers:
Buying a used car in Connecticut?  Don't make a costly mistake. Run a Free License Plate Lookup for your Connecticut-registered vehicle!
Check for accidents

. Every year, approximately 6.0 million automobile accidents are reported by the National Highway Traffic Safety Administration.

Check for title brands

. Flood, hail-damage, and salvage titles are examples of critical title brands.

Check for special purpose designations

, including taxi-use, rental-use, or police-use.

Check for thefts.

Lookup a VIN to check for an active theft or previously recovered theft record.
Run a Free Connecticut License Plate Lookup to uncover the full-story of your Connecticut-registered vehicle.