Alaska Free License Plate Lookup
Whether you are buying from a local dealer in Alaska, private seller or eyeing a vehicle from an online auction website, it is a big plus if you know what you are buying before you hand over your money or sign any paperwork for the vehicle.
VinCheck.info offers free license plate lookup that will reveal past ownership, title information, liens, odometer reading and salvage records. Search license plates registered in the state of Alaska:
If you will be needing further investigation, you can also obtain public records associated with the plate by getting in touch with the Alaska DMV, either in person, online, snail mail or via phone call.
You can also search public records resource utilities such as SearchQuarry for a small fee. SearchQuarry paid members can look up the identity of the car's owner, vehicle information, VIN, and safety and recall information for federally approved purposes.  
Enter License Plate: [  ] [ Check SearchQuarry ($2.95)]
Alaska License Plates & Placards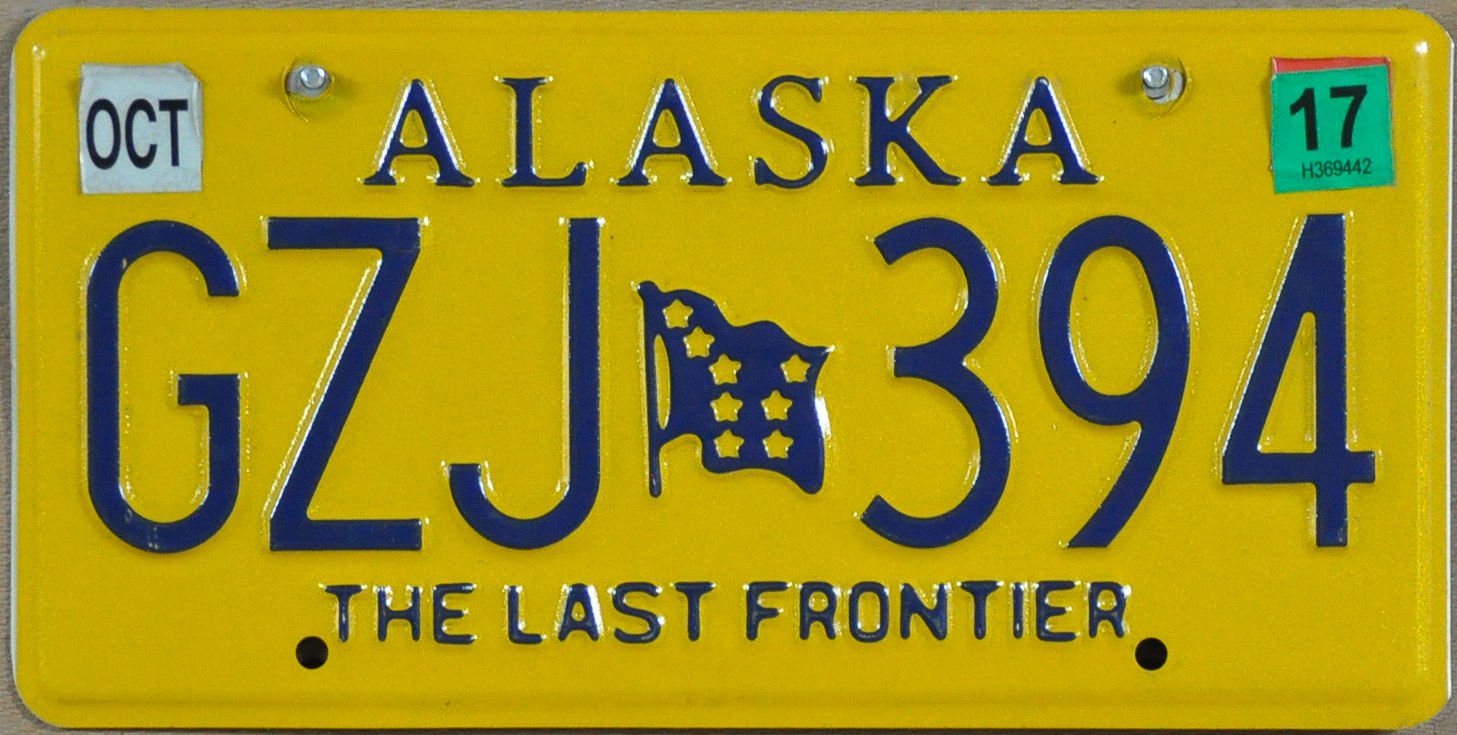 Anybody working or residing in Alaska must apply for registration within 10 days of entering the state or taking a job within the state. On the other hand, visitors are allowed to drive their vehicles for up to 60 days with current out-of-state car registration. You may be required to provide the vehicle's Title when registering your vehicle. The Division of Motor Vehicles under the Alaska Department of Administration issues license plate numbers with a 3-letter, 3-numeric serial format. Most less-populous states follow this format or its variants and vehicle owners are required to display 2 plates, one on the front and one on the rear.
In Alaska, If one or more of your plates has been lost or damaged, you can apply apply for duplicate plates or tabs.
Types of Alaska License Plates
There are seven (7) types of plates being issued in the state of Alaska. Please be aware of the requirements for each style of plate.
Personalized plates are also available. To apply for a personalized plate, you can either apply online or fill out this form and submit with your registration.
Transferring of License Plates in Alaska
Generally, you can transfer license plates between two vehicles that are registered to you.  For a vehicle that  has just been purchased, you may request a plate transfer when  you apply for title and/or registration in your name. Please visit Transferring Plates to Another Vehicle for more information.
More Resources for Alaska Drivers:
Buying a used car in Alaska?  Don't make a costly mistake. Run a Free License Plate Lookup for your Alaska-registered vehicle!
Check for accidents. Every year, approximately 6.0 million automobile accidents are reported by the National Highway Traffic Safety Administration.
Check for title brands. Flood, hail-damage, and salvage titles are examples of critical title brands.
Check for special purpose designations, including taxi-use, rental-use, or police-use.
Check for thefts. Lookup a VIN to check for an active theft or previously recovered theft record.
Run a Free Alaska License Plate Lookup to uncover the full-story of your Alaska-registered vehicle.