Minnesota Free License Plate Lookup
Swindlers might hide vehicle defects and forge documents to deceive you. Don't be a victim of vehicle frauds. With Minnesota License Plate Lookup, you will be able to check the vehicle history of a Minnesota car.
VinCheck.info offers free license plate lookup that will reveal past ownership, title information, liens, odometer reading and salvage records. Search license plates registered in the state of Minnesota:
Minnesota Department of Public Safety has access to public vehicle records associated with license plates registered in Minnesota. If you have inquiries, you may contact at (651) 297-3298 for driver services and (651) 297-2126 for vehicle services.
Minnesota License Plates & Placards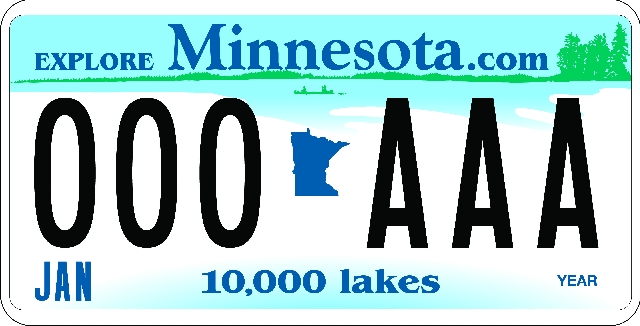 New residents must register their vehicles within 60 days of establishing residency. For non-residents who bought a vehicle in Minnesota, they may acquire a 31-day temporary permit to transport their new vehicles into their home states. As for residents who bought a car from Minnesota dealers, they will be provided a 21-day temporary permit while waiting for their license plates to arrive. Drivers who will enter Minnesota to go to another state may avail a temporary trip permit. The Minnesota Department of Public Safety requires a serial format containing three letters and three numbers on each plate to be present. They also require two license plates for each vehicle, one for the bumper and another for the rear. As an exception, the single license plate rule may apply to older cars if certain requirements are met.
Fill out the application form to get a duplicate/replacement license plate or sticker.
Types of Minnesota License Plate
There are (13) types of plate that might be suitable for your vehicle unit. Take note of the requirements for each plate based on its description.
For license plate types applicable to other vehicles beside cars, you may visit the Search DVS page.
Transferring of License Plates in Minnesota
Transferring a special license plate from one vehicle to another costs $10 per transaction. Check out the License Plate/ Sticker Fee Chart for more information.
More Resources for Kentucky Drivers:

Buying a used car in Minnesota?  Don't make a costly mistake. Run a Free License Plate Lookup for your Minnesota-registered vehicle!
Check for accidents

. Every year, approximately 6.0 million automobile accidents are reported by the National Highway Traffic Safety Administration.

Check for title brands

. Flood, hail-damage, and salvage titles are examples of critical title brands.

Check for special purpose designations

, including taxi-use, rental-use, or police-use.

Check for thefts.

Lookup a VIN to check for an active theft or previously recovered theft record.

Run a Free Minnesota License Plate Lookup to uncover the full-story of your Minnesota-registered vehicle.