Montana Free License Plate Lookup
It may be time-consuming to read a free vehicle history report, but it's always better to be safe than feel sorry. Don't regret a decision by running a free VIN check on any vehicle you want to buy.
VinCheck.info offers free license plate lookup that will reveal past ownership, title information, liens, odometer reading and salvage records. Search license plates registered in the state of Montana
The Montana Department of Justice has a Motor Vehicle Division, which handles vehicle-related affairs in the state. Read the FAQs or ask through the Contact page if you have vehicle-related concerns in Montana. You may also call the MVD at (406) 444-3933.
Montana License Plates & Placards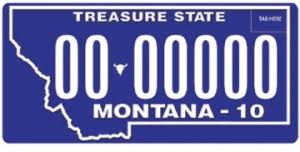 Owners must register and title their vehicles within 60 days of becoming residents. In order to register their vehicles, non-resident employees must provide their current vehicle registration from other states. Vehicle registration can be processed at any county treasurer's office. Montana has a standard serial format containing five numerical digits and two letters. This serial format can be found on plates of passenger vehicles. Montana requires two license plates for each vehicle: the front and the rear plates.
Submit a duplicate/replacement order for lost/damaged plates by filling out the application form.
Types of Montana License Plates
There are (16) license plate types that you can choose from in the state of Montana. Choose your desired plate type and read its description for requirements.
Personalized plates can also be requested using this form. Each request costs $25.75, plus other associated fees. A single plate renewal/transfer request costs $10.30.
Transferring of License Plates in Montana
In most situations, a license plate can be transferred to another vehicle registered under the owner's name.
More Resources for Montana Drivers:

Buying a used car in Montana?  Don't make a costly mistake. Run a Free License Plate Lookup for your Montana-registered vehicle!
Check for accidents

. Every year, approximately 6.0 million automobile accidents are reported by the National Highway Traffic Safety Administration.

Check for title brands

. Flood, hail-damage, and salvage titles are examples of critical title brands.

Check for special purpose designations

, including taxi-use, rental-use, or police-use.

Check for thefts.

Lookup a VIN to check for an active theft or previously recovered theft record.

Run a Free Montana License Plate Lookup to uncover the full-story of your Montana-registered vehicle.