North Carolina Free License Plate Lookup
In 2016, 3,138 vehicle crashes happened in North Carolina because of defective features. Spot problems before they happen to you using VinCheck.info's free license plate lookup.
VinCheck.info offers free license plate lookup that will reveal past ownership, title information, liens, odometer reading and salvage records. Search license plates registered in the state of North Carolina:
The North Carolina DMV is the agency responsible for regulating license plates in North Carolina. Call at (919) 715-7000 for inquiries. You may also visit their nearest office or the Contact Us page.
North Carolina License Plates & Placards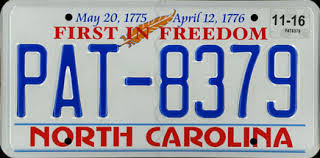 New owners must title and register their vehicles in the state. The same applies to new residents who have not yet titled their vehicles. For registered vehicles, their registration must be renewed within 90 days before expiration. The North Carolina Division of Motor Vehicles produces the official license plates of North Carolina vehicles. The state's license plate has a serial format containing three letters and four numerical digits.
To request replacement plates, fill out the replacement form and submit an insurance document as proof. Other details are explained on the Lost or Stolen Plates page.
Types of North Carolina Plate
There are six (6) plate types available for display in North Carolina.
Standard

Special Interests

NASCAR

Military

Collegiate

Civic Clubs
You can request a personalized North Carolina license plate if your vehicle is titled and registered in the state.
Transferring of License Plates in North Carolina
You need to submit all the requirements required by the DMV to process a plate transfer. Plate transfer costs $20.
More Resources for North Carolina Drivers:
Buying a used car in North Carolina?  Don't make a costly mistake. Run a Free License Plate Lookup for your North Carolina-registered vehicle!
Check for accidents

. Every year, approximately 6.0 million automobile accidents are reported by the National Highway Traffic Safety Administration.

Check for title brands

. Flood, hail-damage, and salvage titles are examples of critical title brands.

Check for special purpose designations

, including taxi-use, rental-use, or police-use.

Check for thefts.

Lookup a VIN to check for an active theft or previously recovered theft record.
Run a Free North Carolina License Plate Lookup to uncover the full-story of your North Carolina-registered vehicle.