Washington VIN Check
VIN inspections are no longer required in Washington, except in cases where a vehicle has been rebuilt. The Washington State Patrol performs physical inspections on vehicles that have been rebuilt after being destroyed or declared a total loss by an insurance company. Run a free VIN check and look up over 2.9 million cars registered in the state of Washington:
VinCheck.info gathers information on thefts, accidents, sales, titles, specifications, and more from official US government sources across the country into a database to provide free vehicle history to the public. Search based on the 17-digit VIN or the license plate number.
Washington Title Request
Here are some ways you can get vehicle title information in Washington State through the Department of Licensing (DOL):
To check if the title is valid and clear of lien holders, call 360.902.3770. (DOL will not provide specific details about the vehicle.)
To check if the vehicle has title brands, send a completed Vehicle Record Request form to recordrequest@dol.wa.gov. (Use the form only for vehicle you own or have owned.)
The VINCheck.info vehicle history report is a great source of information about the vehicle title. Run a free License Plate Lookup to search for:
Potential title brands issued by state DMVs against the title. A "title brand" permanently associates a potential issue related to the vehicle.
Vehicle liens records that indicate if a finance company may have a claim to ownership of the vehicle.
Washington Resources for Car Drivers/Owners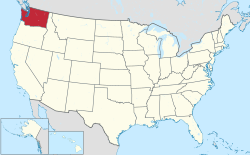 Washington, officially referred to as Washington State or State of Washington is a state located in the Pacific Northwest region of the United States. Named after the first president of the United States, George Washington, it has a population of approximately 7 million people. The Capital of Washington is Olympia, and the state is divided among 39 counties spanning 71,362 square miles. Washington was the 42nd state to join union in November 11, 1889. The largest cities in Washington are Seattle, Spokane, Tacoma, Vancouver, Bellevue, Everett, Renton, Federal Way, Spokane Valley, and Yakima.
Statistics on Accidents, Theft and Disasters:
Number of cars registered as of 2016: 2,935,656
Washington Department of Transportation's recent Annual Report stated that there were 117,053 reported accidents in 2015.

Of those 117,053 accidents, 49,505 resulted in injuries and 551 resulted in fatalities.
Among all persons involved in fatal or injury collisions, motorcyclists, pedestrians and bicyclists are much more likely to be the person killed or injured than drivers or occupants of motor vehicles.
Most accidents occur in the month of December.
The highest number of crashes occurred on Fridays.
Distraction was the leading contributing circumstance for accidents.

The motor vehicle theft rate for Washington in 2016 was 443 thefts for every 100,000 inhabitants. On average, there were 88.4 motor vehicles stolen per day.
More than 1,000 earthquakes occur in Washington each year. A dozen or more are felt; occasionally, they cause damage.
Other Resources:
1. Washington Department of Motor Vehicles
2. Emissions and Safety Inspection Locations
3. Vehicle Safety Ratings
4. Vehicle Recalls by VIN
5. Automotive Market Values
6. Automotive Reviews
Why should I run a Washington VIN Check?
Check for accidents. Every year, approximately 6.0 million automobile accidents are reported by the National Highway Traffic Safety Administration.
Check for title brands. Flood, hail-damage, and salvage titles are examples of critical title brands.
Check for special purpose designations, including taxi-use, rental-use, or police-use.
Check for thefts. Look up a VIN to check for an active theft or previously recovered theft record.
Run a Washington VIN Check to uncover the full-story of your next vehicle.