Check & Decode Any VIN For Free
Comprehensive Vehicle History, Market Value, Specifications, Car Title Check and More
Free VIN Check in 3 Easy Steps
VinCheck.info
offers free access to vehicle information collated from trusted sources. Look up vehicle records by VIN, any model or make, across 50 states in a minute or less:
Step 1: Look for the VIN.
It is typically found on the driver's side dashboard where the dashboard meets the windshield.
Step 2: Start the VIN search.
Enter the VIN into the search box. Hit "Continue" to launch the database search.
Step 3: Get VIN Report
Browse the 10-page report or enter your email address to receive a copy via email.
Never buy a used car without knowing its history!
Watch out for these issues revealed by over 500,000 free vehicle history reports.
1 in every 5 cars is a SALVAGED car
1 in every 15 cars is REBUILT
1 in every 25 cars has been involved in an ACCIDENT
1 in every 50 cars has a TAMPERED ODOMETER
1 in every 100 cars has been DAMAGED BY FLOOD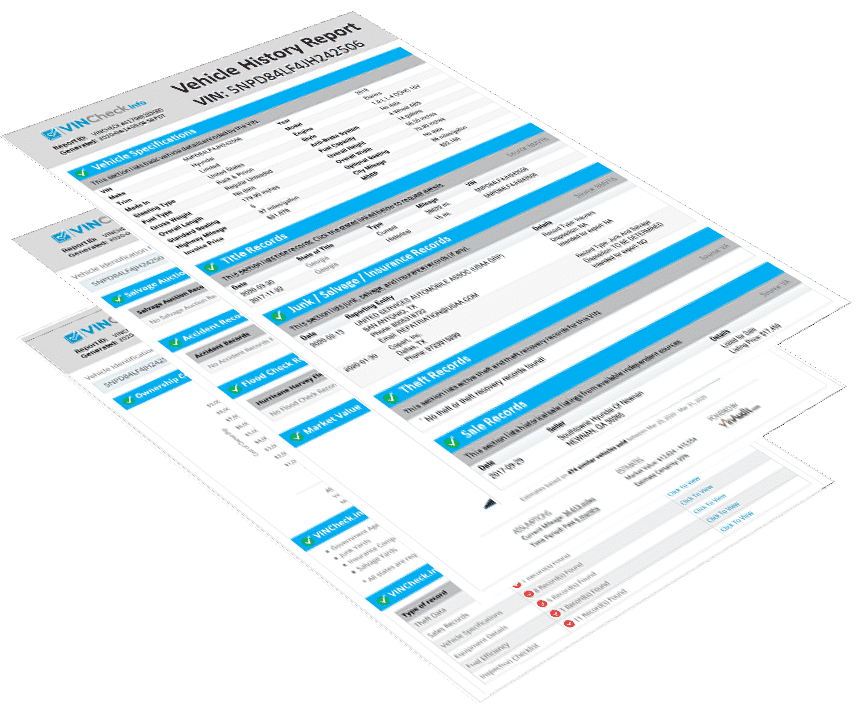 Frequently Asked Questions