Free Alabama License Plate Lookup
One of the reasons one needs to run an Alabama license plate lookup is when buying a used car. It can reveal important information that will help avoid getting scammed.
Enter an Alabama license plate below to lookup your vehicle for free and get a complete report:
VinCheck.info offers free license plate lookup. Using your Alabama license plate, you can get a complete vehicle report at no cost. A vehicle report from VinCheck.info contains:
   Market Value
   Vehicle Specifications
   Equipment Details
   Fuel Efficiency
   Safety Rating
   Inspection Checklist
   Current Warranty
   NMVTIS Report
Title and Vehicle Registration in Alabama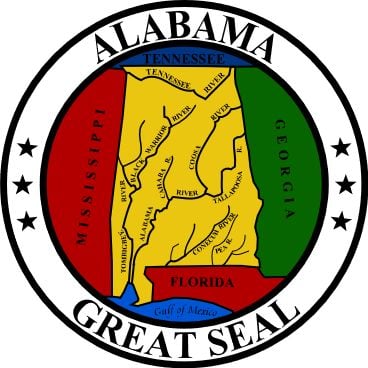 The Alabama Department of Revenue takes care of vehicle titles and registration. New vehicle owners have twenty (20) calendar days to register their vehicles. For new Alabama residents, they must register their vehicles within 30 days after securing residency.
A title application must be completed before a registration can be processed. When a certificate of title is not required, only a registration is issued. A designated agent or their appointed deputy is required to inspect the vehicle prior to issuing a registration.
How to Get a Vehicle Title in Alabama?
The title proves your ownership of the vehicle. You need to have a title before you can register your vehicle. Some vehicles don't require a title. In this case, a registration is issued.
Vehicle owners must submit application at the local designated agent. They must sign the title application in person. In addition, the lienholder, assignor and assignee must print and sign their names as well.
Here are the information needed when applying for vehicle title:
The vehicle identification number (VIN)
The date of purchase, and whether the vehicle is new or used
The vehicle's year, make, model number and color
The vehicle's odometer reading
The vehicle's current title number (if applicable)
Applicant information (name and mailing address)
Lienholder information (if applicable)
How to Transfer a Vehicle Title in Alabama?
Transferring a title in Alabama vary, depending on where you purchased the vehicle.
Vehicle purchased from dealer
Licensed dealers are authorized to complete the application on your behalf. They will then send it to Montgomery. You or your lien holder should receive your title in 4-6 weeks.
Vehicle purchased from private party
 The seller physically signs the title over to the buyer.
 The seller completes the bill of sale.
 Pay the necessary fees to your local county office.
For more information, visit the Alabama DOR website.
How to Register a Vehicle in Alabama?
Make sure you have your Alabama title and insurance when registering your vehicle.
Out-of-state vehicle
Vehicle title. Owners who are on the title must be present.
Vehicle registration from the previous state.
Complete a vehicle identification number (VIN) inspection.
Pay the applicable registration fees.
Vehicle purchased from dealer
Yellow copy of title application
Current vehicle title, or manufacturer's certificate of origin
The bill of sale showing sales tax information
Affidavit from Dealer
The license plates, if applicable
Current registration, if applicable
Valid Alabama driver's license
Proof of insurance
License plates to transfer, if applicable
Odometer disclosure if the vehicle is less than 10 years old
Pay the applicable registration fees
Vehicle purchased from private party
Submit previous title
Return any old license plates
Transfer your license plates, if applicable
Valid Alabama driver's license
Most recent registration documents
Odometer disclosure if the vehicle is less than 10 years old
Pay registration fees
Alabama License Plate Information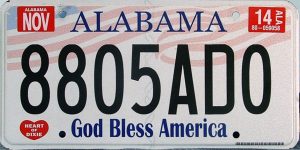 Any person acquiring a new or used motor vehicle in Alabama shall obtain a license plate within twenty (20) calendar days from the date of acquisition.
If your tags are mutilated, lost, or stolen, you can apply for a replacement. Submit an application for a replacement to the issuing office and pay applicable fees.
Types of Alabama License Plates
Alabama has nine (9) types of plates available to choose from. Each type of license plate has different requirements and fees.
Standard Plates (all vehicles)
Distinctive Plates (all vehicles)
Collegiate Plates
Military Plates

Armed Forces Retired
Disabled Veteran

Generic Distinctive Plates
Generic Race Plates (all vehicles)
Dealer & Manufacturer Plates
Temporary Tags
Government Plates
Vintage Plates (Passenger, Motorcycle, Truck)
Transferring of License Plates in Alabama
In Alabama, it is possible to transfer a license plate from one vehicle to another. The state transfer fee is $1.25. Additionally, a number of Alabama counties have imposed local issuance fees.
How to Apply for a Salvage Title in Alabama
In Alabama, a vehicle deemed a total loss is given a salvage title. It cannot be driven on the highways or issued a license tag. The owner can either sell it "as is" to a vehicle rebuilder company for parts or restore it and apply for a "rebuilt" title.
Should the owner decides to restore the vehicle, he must:
obtain a rebuilder's license
restore/rebuild the salvage vehicle to its condition before it was totaled
have the vehicle inspected
To apply for vehicle inspection, make sure you provide the following:
An application for rebuilt inspection (INV 26-15)
The current salvage certificate of title;
All bills of sale for component parts replaced (major components require a notarized bill of sale);
A copy of your current rebuilder's license; and
A remittance advice and $90 inspection fee in certified funds or money order.
Mail everything to:
Alabama Department of Revenue
Motor Vehicle Division
Title Section
P. O. Box 327640
Montgomery, AL 36132
Contact an Alabama DMV office near you for more information!
More Resources for Alabama Drivers:
Buying a used car in Alabama?  Don't make a costly mistake. Run a Free License Plate Lookup on your Alabama-registered vehicle!
Check for accidents. Every year, millions of automobile accidents are reported.
Check for title brands. Flood, hail-damage, and salvage titles. These are examples of critical title brands.
Check for special purpose designations. This includes taxi-use, rental-use, or police-use.
Check for thefts. Lookup a VIN to check for an active theft or previously recovered theft record.
Uncover the full-story of your Alabama-registered vehicle in seconds! Run an Alabama Free License Plate Lookup now!