Alabama Free License Plate Lookup
Residents of Alabama are required to register their motor vehicles and must have a current and valid Alabama license plate before it can be used on public streets or highways.
VinCheck.info offers free license plate lookup that will reveal past ownership, title information, liens, odometer reading and salvage records. Search license plates registered in the state of Alabama:
Alabama License Plates & Placards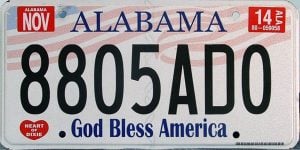 If you live in Alabama, your vehicle must have a license plate from the Alabama Department of Revenue (DOR). Alabama law provides that any person acquiring a new or used motor vehicle shall obtain a license plate within twenty (20) calendar days from the date of acquisition.
In order to register a vehicle subject to the Alabama title law, a title application must be completed before a registration can be processed.  Motor vehicles are registered through license plate issuing offices in the county in which the owner resides. You will receive your license plates and registration stickers when you complete your Alabama vehicle registration.
If your Alabama license plate or decals are mutilated, lost, or stolen, you can apply for a replacement license plate and/or decal from the license plate issuing official upon completion of an Application for Replacement Credentials form, and payment of a replacement fee.
Types of Alabama License Plates
There are nine (9) types of plates being issued in the state of Alabama. Each type of license plate has different requirements and fees. Click on an image of a license plate in a category and see whether the plate can be personalized, how many alphanumeric characters are permitted, and who is permitted to obtain the plates.
Individual plates are ordered On Demand through the Plate Reservation and Ordering System (PROS). This service is available to all Alabama registrants.
Transferring of License Plates in Alabama
You may be able to transfer a license plate from one vehicle to another. The state transfer fee is $1.25. Additionally, a number of Alabama counties have imposed local issuance fees. Check License Plate Information for more details on the different types of license plates offered in the state of Alabama.
More Resources for Alabama Drivers:
Buying a used car in Alabama?  Don't make a costly mistake. Run a Free License Plate Lookup on your Alabama-registered vehicle!
Check for accidents. Every year, approximately 6.0 million automobile accidents are reported by the National Highway Traffic Safety Administration.
Check for title brands. Flood, hail-damage, and salvage titles are examples of critical title brands.
Check for special purpose designations, including taxi-use, rental-use, or police-use.
Check for thefts. Lookup a VIN to check for an active theft or previously recovered theft record.
Run a Free Alabama License Plate Lookup to uncover the full-story of your Alabama-registered vehicle.