Free California License Plate Lookup
Buying a used car can be hard. Scammers are everywhere. Make sure to research the vehicle's history. There are several ways to get a report. You can either lookup by license plate or by VIN. For vehicles registered in the state of California, you can run a free California license plate lookup to get everything you need to know about the vehicle.
Enter a California license plate below to lookup your vehicle and get a complete report:
VinCheck.info offers free license plate lookup. Using your license plate, you can get a complete vehicle report at no cost. A vehicle report from VinCheck.info contains:
Market Value
Vehicle Specifications
Equipment Details
Fuel Efficiency
Safety Rating
Inspection Checklist
Current Warranty
Auto Insurance
NMVTIS Report
Title and Vehicle Registration in California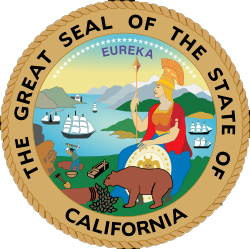 Vehicle owners must register their vehicles with the State DMV. Most transactions can be completed online to skip the line. Make sure to check online first before heading to your local DMV. License plates are required for most vehicles. You will get license plates when you register your vehicle. Vehicles must have license plates with valid date stickers. This shows that the registration is up to date.
How to Get a Vehicle Title in California
It is a must to get a title for your vehicle. The title proves ownership. If you bought the car from a dealer, they will do the paperworks. All you need to do is to wait for the title to arrive in the mail. However, you need to process the title transfer yourself if:
You bought an out-of-state vehicle or moved to the state
You bought it from a private seller
Received it as a gift or inheritance
Out-of-state vehicle
When you move to the state, you must register your vehicle. You have 20 days after establishing residency to complete the process. Before you can apply for a title, you must secure the following:
Vehicle verification
The local California DMV will conduct a vehicle verification. They will check the vehicle identification number. This is to ensure the legality of your vehicle. Contact your local DMV to schedule an appointment.
After securing the pre-requirements, go to your DMV and provide the following:
The out-of-state title and registration
The out-of-state license plates, if available
A weight certificate if you're titling a truck or pick-up
Vehicles purchased from a private seller
Below are the documents you need to transfer the title in your name.
The vehicle's Certificate of Title, indicating the seller is the owner
Smog certification, check exemptions here
Bill of sale
The vehicle title must bear the signatures of the owners and lienholder related information, if applicable.
Vehicle received as a gift or inheritance
If you received a car as a gift, you have 10 days to transfer the title into your name. You need to bring the following to the DMV
How to Register a Vehicle in California?
Out-of-state vehicle
New residents must register their motor vehicle. They have 20 days to get a California title. Below are the requirements:
For privately owned: Completed Application for Title or Registration form. Must bear the signatures of the owners and lienholder related information.
For commercial: Completed Declaration of Gross Vehicle Weight/Combined Gross Vehicle Weight form.
For trailers: Completed Permanent Trailer Identification (PTI) Application Certification form.
Proof of insurance
Out-of-state title
Out-of-state registration
If necessary, weight certification
Smog and emissions certificate, check exemptions here
Vehicle purchased from dealer
The dealership will take care of the registration when you purchase from them. They will also issue a temporary registration for your use. You will receive the permanent registration card and stickers in the mail. If you will not receive your documents in the mail, contact your local DMV office.
Vehicle purchased from private party
After purchasing the vehicle,  you have 10 days to register it. Here are the requirements for vehicles purchased from a private party.
Vehicle title or Application for Duplicate or Paperless Title (REG 227) if the title is lost.
Signature(s) of seller(s) and lienholder, if any, on the Certificate of Title.
Signature(s) of buyer(s) on the Certificate of Title.
Odometer disclosure for vehicles less than 10 years old.
Bill of Sale form (both the seller and the buyer must fill this form out)
Payment for the registration fees
California License Plates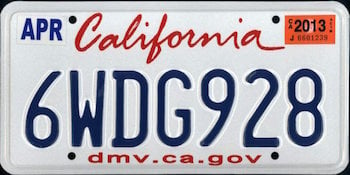 California Plates are currently issued by the California DMV. Front and rear plates are required on most types of vehicle in California, including all passenger vehicles.
Types of California License Plate
There are eight (8) types of plate available for issuance in California. Depending on the particular plate that you will choose, requirements may differ.
Transferring a California License Plate

Generally, you can transfer a license plate from one vehicle to another that you own. For further inquiries, read the FAQs section of How To: Change Vehicle Ownership (HTVR 32).
Contact a California DMV near you for more information!

More Resources for California Drivers:
Buying a used car in California?  Don't make a costly mistake. Run a Free License Plate Lookup on your vehicle!
Check for accidents. Every year, millions of automobile accidents are reported.
Check for title brands. Flood, hail-damage, and salvage titles. These are examples of critical title brands.
Check for special purpose designations. This includes taxi-use, rental-use, or police-use.
Check for thefts. Lookup a VIN to check for an active theft or previously recovered theft record.
Uncover the full-story of your California-registered vehicle in seconds! Run a Free California License Plate Lookup now!