California Free License Plate Lookup
Learn to distinguish a good car from a bad one. View vehicle history for free using any California license plate number.
VinCheck.info offers free license plate lookup that will reveal past ownership, title information, liens, odometer reading and salvage records. Search license plates registered in the state of California:
Likewise, California DMV has vehicle information associated with registered plates. You may contact the agency at: 1-800-777-0133 (Telephone)  / TTY 1-800-368-4327 (Hearing Impaired). Other means of contacting the agency can be found in the Contact Us page.
California License Plates & Placards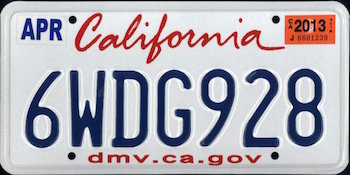 You must pay the registration fees of your non-resident vehicle within 20 days of the due date. Generally, a vehicle cannot be registered if it fails to meet California's emission standard. However, it can be exempted upon meeting certain conditions. Moreover, California usually prohibits the entry of vehicles with less than 7,500 miles of odometer reading and have less than two years of age at the time of purchase, trade, or acquisition. Still, some low-mileage vehicles may qualify for an exception. The state's Department of Motor Vehicles is tasked with providing license plates to California drivers. The state's official serial format has three letters and four numerical digits. Vehicle owners in California are required to display two plates on their vehicles, one on the front and one on the rear.
Complete the request form to replace a damaged or missing plate. It can be submitted by mail or over the counter. In some cases, you may need to surrender your current plates and provide additional documents if the DMV requires them. Check the guidelines about plate replacements in California for more information.
Types of California License Plate
There are eight (8) types of plate available for issuance in the state of California. Depending on the particular plate that you will choose, requirements may differ.
Standard License Plates (Passenger, Commercial, trailer, etc.
Special Interest License Plates (Arts, Kids, Tahoe, etc.)
Special Interest Motorcycle License Plates

(Coastal, Tahoe, etc.)

Special License Plates

(Exempt, Livery, Historical Vehicles, etc.)

Special Recognition License Plates

(Legion of Valor, Purple Heart, etc.)

Occupational License Plates

(Dealers, Dismantlers, etc.)

Legislative License Plates

(Senate, Assembly)

Apportioned License Plates (Power Unit and Prorate)
Transferring of License Plates in California
Generally, you can transfer a license plate from one vehicle to another that you own. For further inquiries, read the FAQs section of How To: Change Vehicle Ownership (HTVR 32).

Titling Requirements and Procedure in California
Generally, vehicles must meet California's emissions standard before they can be titled. However, exemptions may be granted if certain conditions were met. Owners need to secure an appointment at a local DMV office in order to title their vehicles.

Apply for a title by providing a completed title/registration form, along with proof of ownership, such as the car's title or registration card from another state. In addition, the car must be inspected by an authorized agent to get a completed vehicle verification form, which will be required by the DMV as well.  

To transfer the ownership of a title to another person, the current owner must fill out the transfer form. Be sure to include the signatures of important parties (sellers, owners, etc.) on the form to process the request. In addition to the documents needed for title transfers, the DMV may require smog testing on certain vehicles, especially cars with more than four years of age.

If you suspect illicit actions were involved during a title transfer, such as forgery and unexplained charges, you may file a complaint by calling at 1-800-777-0133. You may also explain your grievances on the complaint form, which you may submit to a local DMV office. Follow the instructions and make sure the details you will disclose are correct. You may also attach photocopies of documents related to your concern.
More Resources for California Drivers:
Buying a used car in California?  Don't make a costly mistake. Run a Free License Plate Lookup for your California-registered vehicle!
Check for accidents

. Every year, approximately 6.0 million automobile accidents are reported by the National Highway Traffic Safety Administration.

Check for title brands

. Flood, hail-damage, and salvage titles are examples of critical title brands.

Check for special purpose designations

, including taxi-use, rental-use, or police-use.

Check for thefts.

Lookup a VIN to check for an active theft or previously recovered theft record.
Run a Free California License Plate Lookup to uncover the full-story of your California-registered vehicle.