New York Free License Plate Lookup
Save yourself the trouble of experiencing vehicle issues by running a free VIN check. This will allow you to learn about a vehicle's issues without owning it yet.
VinCheck.info offers free license plate lookup that will reveal past ownership, title information, liens, odometer reading and salvage records. Search license plates registered in the state of New York:
The New York DMV may also supply you with public information about New York-registered vehicles. Call the agency at 1-518-486-9786. You may also reach out via online correspondence, other mobile numbers, or office visit.
New York License Plates & Placards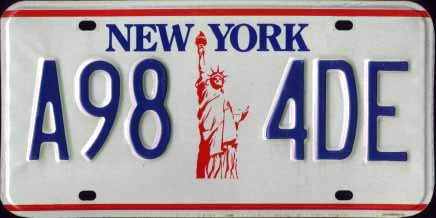 Once your insurance ID card becomes ready for use, you will have 180 days to register your vehicle at the DMV. Vehicle insurance is mandatory for each car being registered. Failure to comply with the said policy can result in your vehicle registration and driver's license being suspended. New York's official serial format for its license plate has three letters and four numerical digits.
You may request a free replacement for missing/damaged plates if you have a police report. Visit the Lost, stolen, or destroyed plates page for other details about replacement plates.
New York License Plate Types
You can choose any of the eight (8) plate types available for your vehicle unit. Take note that each plate may contain different requirements.
Personalized plates can be requested as well. For more information, see the Order Personalized Plates page.
Transferring of License Plates in New York
For most situations, you can transfer your New York-registered license plates between two vehicles that you owned. Submit the requirements listed by the DMV to process a plate transfer.
More Resources for New York Drivers:
Buying a used car in New York?  Don't make a costly mistake. Run a Free License Plate Lookup for your New York-registered vehicle!
Check for accidents

. Every year, approximately 6.0 million automobile accidents are reported by the National Highway Traffic Safety Administration.

Check for title brands

. Flood, hail-damage, and salvage titles are examples of critical title brands.

Check for special purpose designations

, including taxi-use, rental-use, or police-use.

Check for thefts.

Lookup a VIN to check for an active theft or previously recovered theft record.
Run a Free New York License Plate Lookup to uncover the full-story of your New York-registered vehicle.