Massachusetts Free License Plate Lookup
State law requires drivers to register their motor vehicles with the Massachusetts Registry of Motor Vehicles (RMV). All motor vehicles must display license plates issued by the RMV.
VinCheck.info offers free license plate lookup that will reveal past ownership, title information, liens, odometer reading and salvage records. Search license plates registered in the state of Massachussetts:
Massachussetts License Plates & Placards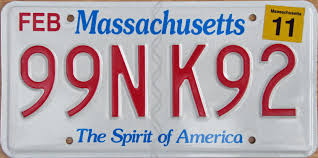 To drive in Massachusetts, a vehicle needs to be currently registered with the Massachusetts Registry of Motor Vehicles (RMV), and the vehicle owner must have a legally acquired title.
Registered motor vehicles and trailers must display the registration plate or plates, depending on the plate type. The registration plate displays the vehicle registration number and the type of registration. Most vehicles must display 2 license plates; one the back and another on the front of the vehicle. Vehicles such as motorcycles and trailers only need a rear plate.
If your license plates are lost, mutilated or becomes illegible, replacement plates may be ordered from an RMV Service Center or over the phone (857-368-8000). The fee is $10 per plate. You will be issued a temporary plate permit to keep in the vehicle until the plate arrives. If both of your plates were lost or stolen, you must obtain a new set of plates from an RMV Service Center.
You may request one or two replacement plates at any time. The replacement plates will have the same plate number and be the same plate type as your current registration plates.
Types of Massachusetts License Plates
There are several varieties of special plates available in Massachusetts to support your favorite sports team, charitable organization, or environmental cause. Those who qualify can also order military license plates or historic vehicle tags. Eligibility requirements differ based on plate type.
For details on specific plates, see the License Plate Manual.
Passenger Normal Plates

Collegiate Plates

Government Plates
Vanity plates can be ordered in person by going to any RMV Full Service Center and completing  the Application for Vanity Plates.  Up to three plate requests can be made on one application. . All vanity plates must begin with two letters. The plate can be no more than six characters, or a maximum of five characters for motorcycle plates. Vanity plates cannot have letters and numbers intermixed. For example: "MY65MG."
Transferring of License Plates in Massachusetts
License plates may be transferred from one vehicle to another if the registration is still active, if the owner is still the same in the registration, and if both vehicles conform to the same plate standards.
To transfer a plate from one vehicle to another of the same type, the fee is $25.00. A $75.00 title fee and the applicable sales tax will also be collected.
More Resources for Massachusetts Drivers:
Buying a used car in Massachusetts?  Don't make a costly mistake. Run a Free License Plate Lookup for your Massachusetts-registered vehicle!
Check for accidents.

Every year, approximately 6.0 million automobile accidents are reported by the National Highway Traffic Safety Administration.

Check for title brands.

Flood, hail-damage, and salvage titles are examples of critical title brands.

Check for special purpose designations

, including taxi-use, rental-use, or police-use.

Check for thefts.

Lookup a VIN to check for an active theft or previously recovered theft record.
Run a Free Massachusetts License Plate Lookup to uncover the full-story of your Massachusetts-registered vehicle.