The GMC marque can be traced back to the Rapid Motor Vehicle Company founded by Max Grabowski in 1902 which was acquired by General Motors in 1909. In the same year, Reliance Motor Car Company also become a part of General Motors. The division created in 1911 out of the merger of the two companies became known as GMC Truck which produces SUVs trucks and vans. The GMC lineup of products currently include light- and medium-duty trucks, pickup trucks, vans, and SUVs.
Since 1920, GMC trucks have been mechanically similar with Chevrolet trucks. Over the years, the differences between their lineup have varied. GMC vehicles offer distinct features, trim levels and minor styling refinements. In most cases, GMC SUVs and full-size pickups are superior in their class and have a more upscale image.
Here are some interesting facts about GMC:
In 1970, GMC introduced one of the most influential SUV models in US automotive history. GMC Jimmy was available in two-wheel-drive (2WD) and four-wheel-drive (4WD) variants.
GMC's pre-war models had become very popular after World War II even without major design changes in the design.
For the fourth consecutive year, GMC earned Kelley Blue Book's 2017 Brand Image Award for Most Refined Brand.
For the third consecutive year, GMC won the Most Ideal Popular Brand in AutoPacific's 2016 Ideal Vehicle Awards. The Acadia, Yukon/Yukon XL, and GMC Sierra ranked first in their respective segments, one of only two automakers to do so.
In the 2016 J.D. Power Vehicle Dependability Study, the GMC brand ranked fifth overall after it gained five spots and the Yukon full-size SUV ranked highest in its segment.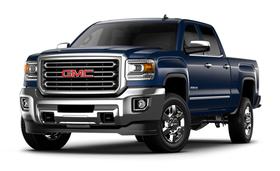 Popular models from GMC include:
1. GMC Terrain
2. GMC Acadia
3. GMC Yukon
4. GMC Canyon
5. GMC Sierra 1500
6. GMC Sierra HD
7. GMC HD Diesel
8. GMC Savana Cargo
9. GMC Savana Passenger
10. GMC Savana Cutaway
Resources for GMC enthusiasts:
1. Official GMC Website
2. GMC Owner's Manual and Warranty Information
3. GMC Safety Ratings
4. GMC Recalls
5. GMC Market Values
6. GMC Reviews
Why should I run a GMC VIN Check?
Check for accidents. Every year, approximately 6.0 million automobile accidents are reported by the National Highway Traffic Safety Administration.
Check for title brands. Flood, hail-damage, and salvage titles are examples of critical title brands.
Check for special purpose designations, including taxi-use, rental-use, or police-use.
Check for thefts. Lookup a VIN to check for an active theft or previously recovered theft record.
Run a GMC VIN Check to uncover the full-story of your next vehicle.