Indiana VIN Check
Any vehicle from another state that is being titled in Indiana, including vehicles owned by new Indiana residents and vehicles assigned to an Indiana resident on a manufacturer's certificate of origin, must have a vehicle inspection. The inspection will confirm the Vehicle Identification Number (VIN) of the vehicle. Lookup over 2.3 million cars registered in the state of Indiana:
VinCheck.info gathers information on thefts, accidents, sales, titles, specifications, and more from official US government sources across the country into a database to provide free vehicle history to the public. Search based on the 17-digit VIN or the license plate number.
Indiana Title Request
For a yearly subscription fee of $95 (which includes not just one – but ten (10) user names and passwords), you can access the BMV Title & Lien Search using Title Number AND Social Security Number or Vehicle Identification Number AND Social Security Number search criteria.
There is an online fee of $5.00 per record for the vehicle title information.
Indiana Resources for Car Drivers/Owners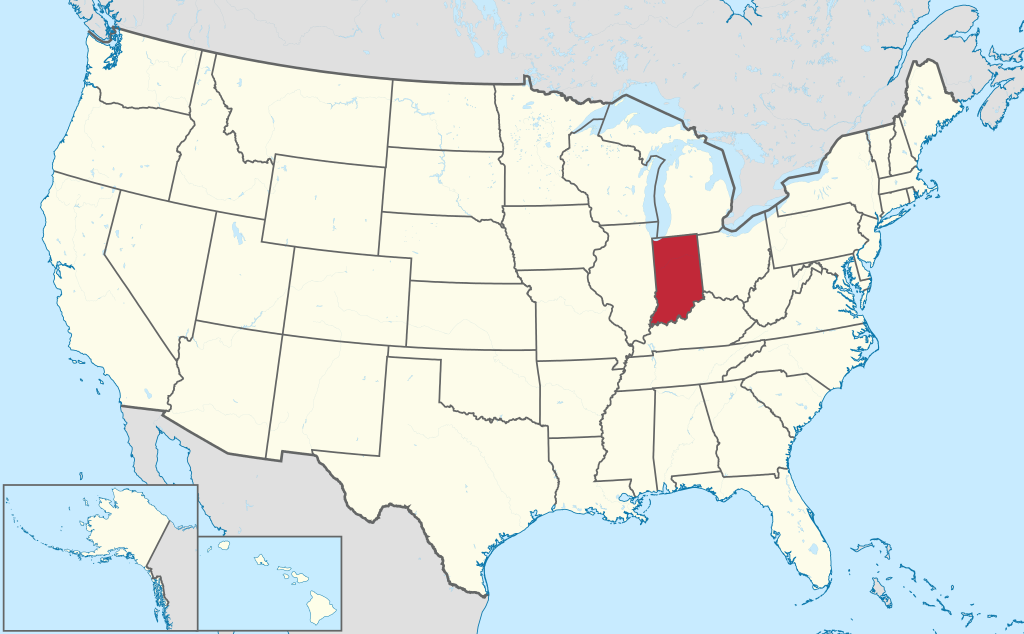 Indiana is a U.S. state located in the midwestern and Great Lakes regions of North America. Indiana is the 17th most populous of the 50 United States and with a total area (land and water) of 36,418 square miles (94,320 km2), Indiana ranks as the 38th largest state in size. Its capital and largest city is Indianapolis. Indiana was admitted to the United States as the 19th U.S. state on December 11, 1816. The largest cities in Indiana are Indianapolis, Fort Wayne, Evansville, South Bend, Carmel, Bloomington, Hammond, Gary, Lafayette, and Columbus.
Statistics on Accidents, Theft and Disasters:
Number of cars registered as of 2016: 2,330,172

Indiana Criminal Justice Institute's recent

Annual Report

stated there were 205,532 reported accidents in 2014.

There were 702 fatal collisions in 2014 (resulting in 743 fatalities).

26 percent (184 of 702) of fatal collisions were speed-related.

53 percent of passenger vehicle occupants killed in collisions were not wearing seatbelts.

3,979 collisions (2 percent of all collisions) occurred in a work zone in 2014.

Drivers ages 15 to 20 years old, had the highest rate of crash involvement.

The motor vehicle theft rate for Indiana in 2016 was 222.1 thefts for every 100,000 inhabitants. On average, there were 40.35 motor vehicles stolen per day.

Indiana is susceptible to mass amounts of tornadoes, the Tornado History Project reports a cumulative number of tornadoes to hit the state over the last 64 years at 1,393.
Other Resources:
1. Indiana Department of Motor Vehicles
2. Emissions and Safety Inspection Locations
3. Vehicle Safety Ratings
4. Vehicle Recalls by VIN
5. Automotive Market Values
6. Automotive Reviews
Why should I run an Indiana VIN Check?
Check for accidents. Every year, approximately 6.0 million automobile accidents are reported by the National Highway Traffic Safety Administration.
Check for title brands. Flood, hail-damage, and salvage titles are examples of critical title brands.
Check for special purpose designations, including taxi-use, rental-use, or police-use.
Check for thefts. Lookup a VIN to check for an active theft or previously recovered theft record.
Run an Indiana VIN Check to uncover the full-story of your next vehicle.