Maryland Free License Plate Lookup
Whether the vehicle is being purchased from within Maryland or out-of-state, the procedure is the same to transfer ownership to you. You must register the vehicle and obtain your license plates before you can drive the vehicle on the road.
VinCheck.info offers free license plate lookup that will reveal past ownership, title information, liens, odometer reading and salvage records. Search license plates registered in the state of Alabama:
Maryland License Plates & Placards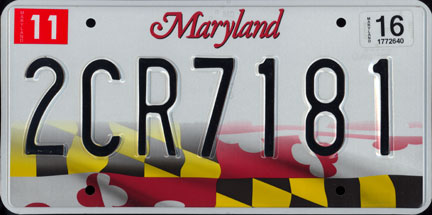 In order to be registered, your vehicle must be titled in Maryland and you must maintain a vehicle liability insurance policy that conforms to Maryland's minimum liability insurance requirements, in most cases, both registration and titling are handled at the same time.
Maryland dealers will usually handle the titling and registration of your vehicle for you.  The dealer will provide you with a bill of sale and temporary (cardboard) or permanent (metal) license plates before you drive the vehicle off the lot.
If you are a new resident of Maryland you must register your vehicle within 60 days of moving to Maryland. Your registration card, license plates and expiration stickers can be provided immediately when you apply in person to the MVA; otherwise, these items also will be mailed to you.
If your plates are stolen, notify the police and obtain a report. You will then need to fill out the Application for Substitute Plates/Stickers/Duplicate Registration (form # VR-009). There is a fee for substitute plates. The completed form can be brought to any full service MVA office.
Types of Maryland License Plates
To request a personalized (vanity) plate you may go online through MVA's website or you can complete an Application for Special Registration Plates (form # VR-164). Depending upon the vehicle, you may request a message with at least 2 and up to 7 characters (numbers and/or letters).
Transferring of License Plates in Maryland
License plates acquired by any person, firm, or corporation for any vehicle owned by them may be transferred to a newly acquired vehicle, providing the following requirements are met:
The vehicle from which the plates are to be transferred must have been sold, traded, junked, or otherwise discarded.

The ownership of the newly acquired vehicle has not changed from the name in which the license plates were originally purchased.

Both vehicles are of the same registration classification.
More Resources for Maryland Drivers:

Buying a used car in Maryland?  Don't make a costly mistake. Run a Free License Plate Lookup for your Maryland-registered vehicle!
Check for accidents.

Every year, approximately 6.0 million automobile accidents are reported by the National Highway Traffic Safety Administration.

Check for title brands.

Flood, hail-damage, and salvage titles are examples of critical title brands.

Check for special purpose designations

, including taxi-use, rental-use, or police-use.

Check for thefts.

Lookup a VIN to check for an active theft or previously recovered theft record.

Run a Free Maryland License Plate Lookup to uncover the full-story of your Maryland-registered vehicle.