Free VIN Decoder
Run VinCheck.info's Free VIN decoder to review important details about any vehicle, no credit card required. We offer a more comprehensive report compared to other VIN decoding services. To run a free VIN Check, simply input a 17-digit VIN below, and click the Decode VIN button:
Can't find the VIN?
VIN Decoding Explained
Tap into the wealth of data now available on millions of vehicles. The 17-digit VIN (vehicle identification number) that the manufacturer assigns permanently to a specific vehicle in the production line is the most reliable way to get information about the vehicle. Based on two ISO standards issued in 1979 and 1980, the VIN is carried in databases maintained by automobile manufacturers and US vehicle registration agencies. VinCheck.info works with these entities to continually gather vehicle information into its own database that you can search at no cost at all.
Each section of the VIN has a different meaning, making it possible to decode the VIN and differentiate between different year, makes, and models. To understand what your VIN means, and how it is decoded, please refer to the diagram below for the corresponding value of each character or section.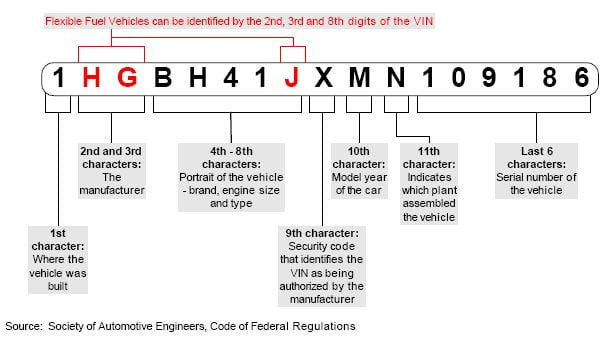 100% Free VIN Decoder with Additional Information
Get more in-depth information on a vehicle instantly using VinCheck.info's free VIN decoder which covers the following critical areas:
Vehicle specifications: the basic information other VIN decoders provide such as the country where the vehicle was built, the manufacturer, engine type and size, model year, transmission type, and more.
Plus (+) our free add-on features:
Market value: the estimated average value people are paying for the same car in your area.
Equipment details: information on the vehicle's air conditioning system, mirrors, safety features, tires, and more.
Fuel efficiency: the car's city and highway mileage per gallon, fuel capacity and type.
Safety rating: IIHS ratings on how well a vehicle protects its occupants in a crash and the availability of technology that can prevent a crash or lessen its severity.
Current warranty: type of coverage (bumper-to-bumper or basic, powertrain, emission, and other types), warranty status (active or expired)
Recalls and defects: recent recall announced by the manufacturer, impact on performance and safety, and available remedy
Free VIN Decoder by Manufacturer
Running a free VIN check and decoding your VIN can help you decide if the car is right for you and uncover any potential safety issues. Click on the manufacturer below to learn more about your vehicle.