Louisiana Free License Plate Lookup
If you are a resident of Louisiana and want to drive a motor vehicle on public streets and highways, your vehicle must be titled and registered in Louisiana Office of Motor Vehicles. If you buy a used vehicle, the certificate of title must be assigned to you by the previous owner or dealer.
VinCheck.info offers free license plate lookup that will reveal past ownership, title information, liens, odometer reading and salvage records. Search license plates registered in the state of Louisiana:
Louisiana License Plates & Placards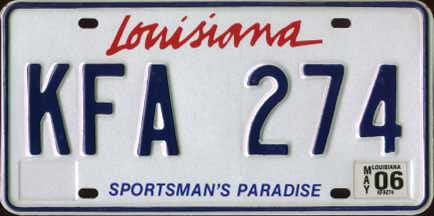 Louisiana law requires that motor vehicles be titled and registered. You can apply for the title, registration and license plate at any Motor Vehicle Office. You will receive a registration certificate along with your license plate.
The license plates must be securely fastened and attached to the rear of the vehicle. It must be legible and remain clearly visible.
If your license plates are damaged, lost, or stolen, you'll need to contact the Louisiana OMV branch office to order replacements upon payment of the appropriate fees. If your plates were stolen, you may also be asked to furnish an affidavit or statement regarding the theft. You should receive your replacement within 30 days.
Types of Louisiana License Plates
Louisiana offers different types of special plates, each has specific qualifications and eligibility requirements. You can select license plates in Louisiana License Plates Viewer. You may purchase Special Plates on these locations. To contact the Specialized Vehicle Unit you may call (225) 925-6371 or call (225) 925-6146 for assistance.
Military Veteran

Retired Veteran

Korean War Veteran

Desert Storm Veteran

Vietnam Veteran

Universities/Colleges

Organization/Service

Special Interest

Louisiana High Schools

Sorority/Fraternity
Personalized plates can be issued to vehicles registered in Louisiana. You can request for personalized  license plates online, but a payment will have to be mailed in.  When payment is received the plate is ordered.
Transferring of License Plates in Louisiana
Under Louisiana law, if you are selling your car, you cannot transfer license plates to the new owner. You may only surrender them to your local OMV or discard the plates.
More Resources for Louisiana Drivers:
Buying a used car in Louisiana?  Don't make a costly mistake. Run a Free License Plate Lookup for your Louisiana-registered vehicle!
Check for accidents.

Every year, approximately 6.0 million automobile accidents are reported by the National Highway Traffic Safety Administration.

Check for title brands.

Flood, hail-damage, and salvage titles are examples of critical title brands.

Check for special purpose designations

, including taxi-use, rental-use, or police-use.

Check for thefts.

Lookup a VIN to check for an active theft or previously recovered theft record.
Run a Free Louisiana License Plate Lookup to uncover the full-story of your Louisiana-registered vehicle.