West Virginia Free License Plate Lookup
Before anyone can drive on West Virginia roads and highways, vehicles must be titled and registered beforehand. The license plate, registration card, and insurance certificate should be kept in the vehicle at all times.
VinCheck.info offers free license plate lookup that will reveal past ownership, title information, liens, odometer reading and salvage records. Search license plates registered in the state of West Virginia:
West Virginia License Plates & Placards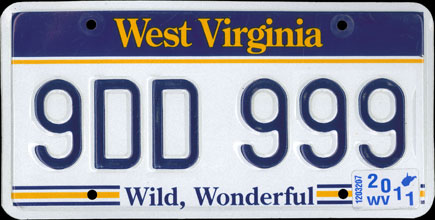 If you live in West Virginia and want to drive a vehicle on public roads, you must register it. When a vehicle is registered in West Virginia, the owner will receive a license plate and registration card, which should be kept in the vehicle with the current insurance certificate at all times.
New Residents must have their vehicles titled and registered within thirty (30) days of establishing residency.
If your license plate is lost or stolen, you can apply through DMV Online Services for a replacement plate. Once a plate is reported as lost or stolen, the same plate number cannot be used again. Immediately notify the West Virginia State Police if a license plate is lost or stolen.
If a license plate becomes worn, faded, or otherwise illegible, request a new plate at the time of renewal for no additional charge. If you request a new plate at any other time, there is a $10.00 fee.
Types of West Virginia License Plates
There are a number of special license plates being offered in West Virginia. A vehicle must already be titled and registered with a regular license plate before applying for any of the special license plates. Click here to view the license plate collection posters.
Personalized plates are issued for Class A vehicles only. An applicant must first title their vehicle and have a regular Class A plate issued on that vehicle. No requests will be accepted unless the Division has a record of that vehicle and current plate.
Transferring of License Plates in West Virginia
A personalized plate can be transferred to another vehicle in the original registrant's name or from husband to wife or wife to husband. A $5.00 transfer fee and $.50 insurance fee is required.
More Resources for West Virginia Drivers:
Buying a used car in West Virginia?  Don't make a costly mistake. Run a Free License Plate Lookup for your West Virginia-registered vehicle!
Check for accidents.

Every year, approximately 6.0 million automobile accidents are reported by the National Highway Traffic Safety Administration.

Check for title brands.

Flood, hail-damage, and salvage titles are examples of critical title brands.

Check for special purpose designations

, including taxi-use, rental-use, or police-use.

Check for thefts.

Lookup a VIN to check for an active theft or previously recovered theft record.
Run a Free West Virginia License Plate Lookup to uncover the full-story of your West Virginia-registered vehicle.