Michigan Free License Plate Lookup
Don't be fooled by a car's appearance; there might be hidden problems lurking behind its attractive image. You may discover these problems with the help of a vehicle history report from VinCheck.info.
VinCheck.info offers free license plate lookup that will reveal past ownership, title information, liens, odometer reading and salvage records. Search license plates registered in the state of Michigan:
Michigan License Plates & Placards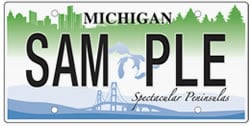 You have 15 days to register and title your vehicle from the date of purchase. The registration can be done in any Secretary of State office. If your stay is temporary, you may opt for either temporary permits: (1) the 30-day permit, (2) and the 60-day permit. Michigan plate's serial format contains three letters and four numerical digits. Many populous states have formats similar to Michigan's. In addition, Michigan issues only a single rear license plate for each car.
A replacement plate for a lost or stolen Michigan license plate costs $5. It can be acquired from a Michigan Secretary of State office.
Types of Michigan License Plates
There are seven (7) types of plate being issued in the state of Michigan.
Be sure to check out the requirements for each plate as they may vary.
Transferring of License Plates in Michigan
A license plate transfer can be processed in a Secretary of State office. To process a plate transfer, you need your current registration, your title to the vehicle in which the plate will be transferred to, and your payment of $8 for the transfer fee. Additional fees might be required for a plate transfer involving two different vehicle types.
More Resources for Michigan Drivers:

Buying a used car in Michigan?  Don't make a costly mistake. Run a Free License Plate Lookup for your Michigan-registered vehicle!
Check for accidents

. Every year, approximately 6.0 million automobile accidents are reported by the National Highway Traffic Safety Administration.

Check for title brands

. Flood, hail-damage, and salvage titles are examples of critical title brands.

Check for special purpose designations

, including taxi-use, rental-use, or police-use.

Check for thefts.

Lookup a VIN to check for an active theft or previously recovered theft record.

Run a Free Michigan License Plate Lookup to uncover the full-story of your Michigan-registered vehicle.