Free Michigan VIN Check
When buying a used vehicle in Michigan, examine the title and vehicle carefully. Orange-colored titles are salvage titles and indicate that one or more of the vehicle's major components have been severely damaged or are missing. Vehicles that have salvage titles are required to have a Michigan VIN check  and be inspected by a specially trained salvage vehicle inspector before a license plate may be purchased for the vehicle. Lookup over 3.2 million cars registered in the state of Michigan:
VinCheck.info gathers information on thefts, accidents, sales, titles, specifications, and more from official US government sources across the country into a database to provide free vehicle history to the public. Search based on the 17-digit VIN or the license plate number.
Michigan Title Request
Vehicle title and registration histories are purchased through the Record Lookup Unit at the official Michigan Secretary of State website below:
Each title transaction requested is $11. For title histories with multiple transactions (for example, the vehicle changed owners several times), you will be charged $11 for each title transfer on record.
Michigan Resources for Car Drivers/Owners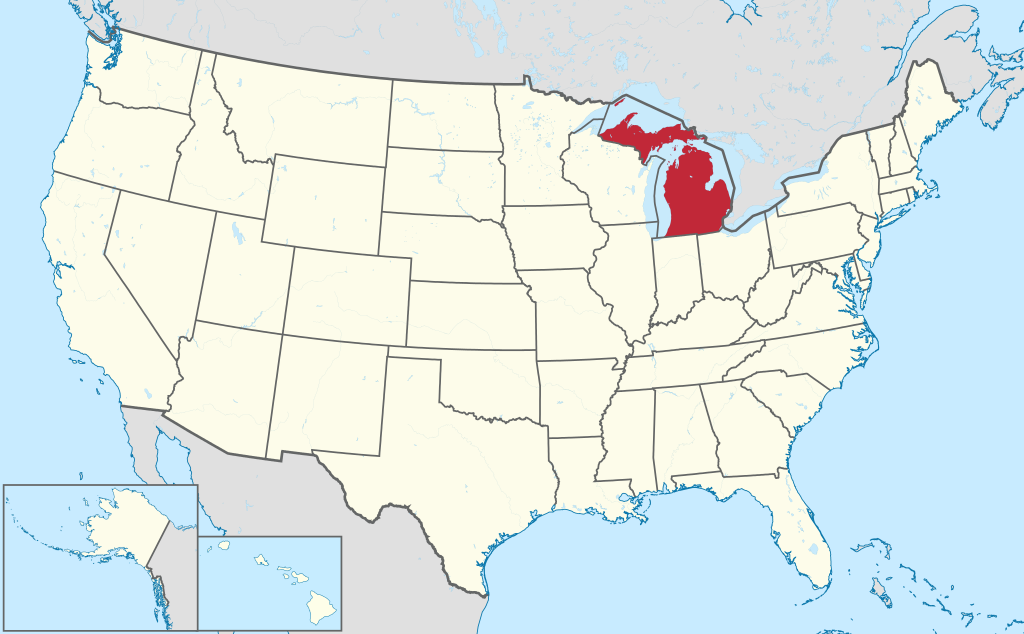 Michigan is a state in the Great Lakes and Midwestern regions of the United States. It contains more than 11,000 inland lakes, spread across its lower and upper peninsulas. Michigan is the tenth most populous of the 50 United States, with the 11th most extensive total area, and the largest state by total area east of the Mississippi River. Its largest city, Detroit, is famed as the seat of the U.S. auto industry, which inspired Diego Rivera's murals at the Detroit Institute of Arts. Also in Detroit is Hitsville U.S.A., original headquarters of the Motown record company. The largest cities in Michigan are Detroit, Grand Rapids, Warren, Sterling Heights, Ann Arbor, Lansing, Charter Township of Clinton, Flint, Dearborn, and Livonia.
Statistics on Accidents, Theft and Disasters:
Number of cars registered as of 2016: 3,248,359

Michigan State Police's recent

Annual Report

stated there were 312,172 reported accidents in 2016 alone.

Of those 312,172 crashes, 79,724 resulted in serious injuries and 1,064 resulted in fatalities.

Of those 1,064 fatalities, 721 were male and 343 female.

251 of those involved in a fatal accident were alcohol-related.

Of those 312,172 crashes, 32,383 were speed related.

Speeding was the leading contributing circumstance for accidents.

The motor vehicle theft rate for Michigan in 2016 was 203.2 thefts for every 100,000 inhabitants. On average, there were 55.2 motor vehicles stolen per day.

Michigan don't have to deal with too many natural disasters. There's no hurricanes and only occasional tornadoes. The frequency of tornadoes in Michigan is nothing compared to many other states.
Other Resources:
1. Michigan Department of Motor Vehicles
2. Emissions and Safety Inspection Locations
3. Vehicle Safety Ratings
4. Vehicle Recalls by VIN
5. Automotive Market Values
6. Automotive Reviews
Why should I run a Michigan VIN Check?
Check for accidents. Every year, approximately 6.0 million automobile accidents are reported by the National Highway Traffic Safety Administration.
Check for title brands. Flood, hail-damage, and salvage titles are examples of critical title brands.
Check for special purpose designations, including taxi-use, rental-use, or police-use.
Check for thefts. Lookup a VIN to check for an active theft or previously recovered theft record.
Run a Michigan VIN Check to uncover the full story of your next vehicle: