Mississippi Free License Plate Lookup
Learning not only the good side of the story, but also its bad side can help either party in a sale.  They can use their knowledge to make a deal favorable. It can be a time saver too if they know right from the start that the negotiation won't go anywhere.
VinCheck.info offers free license plate lookup that will reveal past ownership, title information, liens, odometer reading and salvage records. Search license plates registered in the state of Mississippi:
Other vehicle information can be acquired through the Mississippi Department of Revenue's Official Website. In addition, services like payment, dealer tag request, and title application can be accessed through the online system. You may contact the motor vehicle support at (601)-923-7200, or you may visit the Contact Us page.
Mississippi License Plates & Placards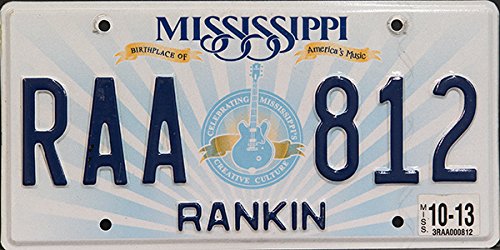 You must register your vehicle within 30 days of entering Mississippi. Late registration will be penalized with late registration fees plus $250 penalty. Mississippi dealers give temporary drive out tags to non-residents who purchased vehicle units from them. The tags are valid for 7 working days.

The State of Mississippi's official license plate provider is its Department of Revenue. The standard serial format for Mississippi license plate contains three letters and three numerical digits. Many less populous states follow such format. Mississippi belongs to the minority of states which issue only one plate for each vehicle unit.
A replacement title can be requested if your existing title is lost, stolen, or damaged. Fill out the form and pay a $9 fee to process your request.
Types of Mississippi License Plate
There are seven (7) plate types containing more than 150 plate designs in Mississippi. To order, check out each plate's requirements.
Standard

Military

Education

Organization

Causes

Government

Other
Transferring of Tags in Mississippi
Each tag in Mississippi is registered under an owner and a vehicle. A tag that is no longer valid can only be surrendered to a county tax collector. A transfer is not allowed.
More Resources for Mississippi Drivers:
Buying a used car in Mississippi?  Don't make a costly mistake. Run a Free License Plate Lookup for your Mississippi-registered vehicle!
Check for accidents

. Every year, approximately 6.0 million automobile accidents are reported by the National Highway Traffic Safety Administration.

Check for title brands

. Flood, hail-damage, and salvage titles are examples of critical title brands.

Check for special purpose designations

, including taxi-use, rental-use, or police-use.

Check for thefts.

Lookup a VIN to check for an active theft or previously recovered theft record.
Run a Free Mississippi License Plate Lookup to uncover the full-story of your Mississippi-registered vehicle.