North Dakota Free License Plate Lookup
A quarter of the state's vehicle crashes in 2016 resulted from a failure to control speed. With the help of VinCheck.info's free license plate lookup, any speed-related issues can be uncovered before it's too late.
VinCheck.info offers free license plate lookup that will reveal past ownership, title information, liens, odometer reading and salvage records. Search license plates registered in the state of North Dakota:
The North Dakota Department of Transportation can be contacted through its Information Desk at 701-328-2500. For specific concerns, you may get in touch with its sub-agencies on the Contact Us page.
North Dakota License Plates & Placards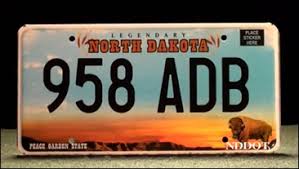 There are two permits that individuals might avail to drive in North Dakota temporarily. These are the Temporary License and the Drive Out permits. The Temporary License permit is valid for 6 – 12 months, while the Drive Out permit can last up to 30 days. To register and title a vehicle, you need to fill out the application form. The North Dakota Department of Transportation produces the license plates for vehicles registered in the state. The standard serial format for North Dakota plates has three letters and three numerical digits.
A replacement order can be requested for a lost/mutilated decal, plate, or registration card. Read the FAQ Duplicate Registration document for more information.
North Dakota Personalized / Special Plate Styles
There are five (5) plate styles that you may choose for your vehicle unit in North Dakota.
General

Military

Antique/Collector

Special Interest

Patriotic
Fill out the Personalized/Special Plate Request Form to get a personalized/special license plate.
Transferring of License Plates in North Dakota
Generally, the license plate of any vehicle sold by the owner should be removed. Visit the Plate with Owner Regulations page for other information.  
More Resources for North Dakota Drivers:
Buying a used car in North Dakota?  Don't make a costly mistake. Run a Free License Plate Lookup for your North Dakota-registered vehicle!
Check for accidents

. Every year, approximately 6.0 million automobile accidents are reported by the National Highway Traffic Safety Administration.

Check for title brands

. Flood, hail-damage, and salvage titles are examples of critical title brands.

Check for special purpose designations

, including taxi-use, rental-use, or police-use.

Check for thefts.

Lookup a VIN to check for an active theft or previously recovered theft record.
Run a Free North Dakota License Plate Lookup to uncover the full-story of your North Dakota-registered vehicle.