Oklahoma Free License Plate Lookup
Vehicle scams like title washing and odometer rollback can be exposed easily. Save yourself from some trouble by acquiring a free vehicle history report.

VinCheck.info offers free license plate lookup that will reveal past ownership, title information, liens, odometer reading and salvage records. Search license plates registered in the state of Oklahoma:
The Oklahoma Tax Commission can be asked for car information through the request form. Contact at 405.521.3221 for questions about Oklahoma motor vehicles. For further inquiries, see the Contact page.
Oklahoma License Plates & Placards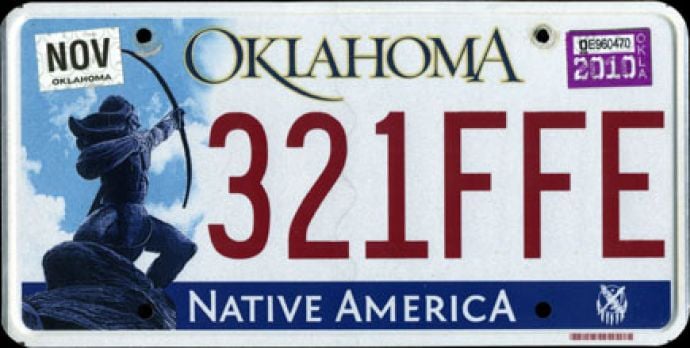 Any person who wishes to drive a car in Oklahoma must title/register it within 30 days of obtaining ownership or entering the state. Complete and submit the application form to title your vehicle in the state. Vehicle registrations are often done with a certified Oklahoma tag agent. Check the amount of registration fee corresponding to your car's registration age. In Oklahoma, the license plates for passenger cars generally carry three letters and three numbers. The state is among the few states that require only a rear license plate for each car.

Submit the replacement form to replace your missing or damaged license plate.
Specialty License Plates of Oklahoma
Oklahoma has five (5) specialty license plate types which you choose from. Take note of the requirements for each style of plate.
Personalized plates are also available for display on motor vehicles. Choose the design you want then fill out this form to order a personalized plate.
Special License Plate Transfer in Oklahoma
Complete the transfer request form to transfer your special license plate to another vehicle you own. You may be notified of the transfer in four weeks' time after submitting your application.
More Resources for Oklahoma Drivers:
Buying a used car in Oklahoma?  Don't make a costly mistake. Run a Free License Plate Lookup for your Oklahoma-registered vehicle!
Check for accidents

. Every year, approximately 6.0 million automobile accidents are reported by the National Highway Traffic Safety Administration.

Check for title brands

. Flood, hail-damage, and salvage titles are examples of critical title brands.

Check for special purpose designations

, including taxi-use, rental-use, or police-use.

Check for thefts.

Lookup a VIN to check for an active theft or previously recovered theft record.
Run a Free Oklahoma License Plate Lookup to uncover the full-story of your Oklahoma-registered vehicle.