Wyoming Free License Plate Lookup
Residents of Wyoming may register their vehicles in any Wyoming county. However, the county that collects the fees keeps and distributes the money to the taxing entities in their county. Therefore, residents are encouraged to register vehicles in the local county treasurer office where they reside.
VinCheck.info offers free license plate lookup that will reveal past ownership, title information, liens, odometer reading and salvage records. Search license plates registered in the state of Wyoming:
Wyoming License Plates & Placards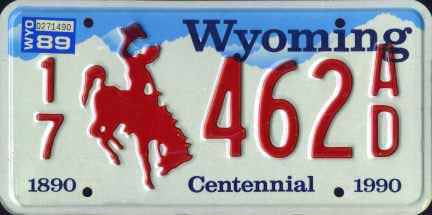 A Wyoming title is required to get Wyoming plates, or a current and valid out-of-state registration.  Wyoming Titles can be obtained from the County Clerk Office.
Wyoming law requires the license plate design to change every 8 years, and the new design to be readily distinguishable from the previous design. The new design for 2017 is Lower Green River Lake and Squaretop Mountain in the background.
Two license plates are issued for cars, trucks, and commercial vehicles. Both must be displayed (one in front and one in back) in order for the vehicle to be legally licensed. The law further requires that the plate be attached in a horizontal position at least 12 inches above the ground, and that it be maintained free of debris to make it clearly visible. Placement of the validation stickers on your license plate is important. The upper left corner is the correct placement for all vehicles.
In case of lost, damaged or mutilated plates, a new or duplicate license plate and registration certificate will be issued by the County Treasurer. Damaged or mutilated license plates must be surrendered to the County Treasurer when you receive your new license plates.
Types of Wyoming License Plates
The following special license plates are processed by WYDOT in conjunction with the county treasurers' offices. Some of these plates require a county treasurer to approve them prior to submitting the application to WYDOT. In addition, some of the specialty plates require an extra fee to be remitted with the application.
The following plates are issued through WYDOT-Motor Vehicles Services only:
The Wyoming Department of Transportation issues personalized plates. Application form can be picked up at any County Treasurer's Office or you can order online for your personalized plate. combinations of letters and numbers. Due to the numbering system, the state began using with the 2001 series plates, personalized plates having a combination of numbers and letters that begin with a number are not allowed.
Transferring of License Plates in Wyoming
If you want to transfer your license plate number you will be required to bring the license plate in if you are transferring from a different type of vehicle (i.e., from a car to a truck, truck to a motorcycle).
More Resources for Wyoming Drivers:
Buying a used car in Wyoming?  Don't make a costly mistake. Run a Free License Plate Lookup for your Wyoming-registered vehicle!
Check for accidents.

Every year, approximately 6.0 million automobile accidents are reported by the National Highway Traffic Safety Administration.

Check for title brands.

Flood, hail-damage, and salvage titles are examples of critical title brands.

Check for special purpose designations

, including taxi-use, rental-use, or police-use.

Check for thefts.

Lookup a VIN to check for an active theft or previously recovered theft record.
Run a Free Wyoming License Plate Lookup to uncover the full-story of your Wyoming-registered vehicle.