Arizona Free License Plate Lookup
Learning about a car beforehand helps in securing a worthwhile purchase, regardless if it came from a dealer or private seller in Arizona.
VinCheck.info offers free license plate lookup that will reveal past ownership, title information, liens, odometer reading and salvage records. Search license plates registered in the state of Arizona:
Likewise, Arizona DOT contains public records associated with Arizona registered plates. Their records can supplement your information needs about a certain car. You may relay your inquiries in person (office visit). Alternatively, you may contact them via online correspondence (web visit), snail mail, email, or through their office hotline at: 602.255.0072.
Arizona License Plates & Placards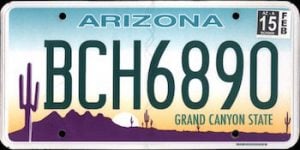 Anyone who is planning to drive a non-registered vehicle in Arizona is required to get a Restricted Use 3-Day Permit to be permitted. The permit can be acquired through their online service or through direct visit of any MVD-approved office. Similarly, newly purchased vehicles from private sellers become expired upon transferring ownership, so new owners will need the permit to drive these vehicles as well. Licensed dealers may give buyers Temporary Registration Plates for their vehicles. They can use these plates to drive their cars until the official license plates arrive. The Arizona Department of Transportation is responsible for producing official Arizona license plates. Their official license plate's serial format consists of three letters and four numerical digits. Most populous states follow this format or its variant. Arizona is among the minority of states that requires owners of passenger vehicles to display only rear license plates.
If your Arizona license plate has sustained damage or was lost, you may inquire for replacement.
Types of Arizona License Plates
You can choose among (74) types of plate available in the state of Arizona. Requirements may vary for each plate.

The following are the plates that are being issued by Arizona:


| | | | |
| --- | --- | --- | --- |
| Standard (full size 6" x 12") | Character Education | Grand Canyon University | Phoenix International Raceway |
| Standard (small size 4" x 7") | Child Abuse Prevention | Hearing Impaired Plate | Phoenix Suns |
| Disability Plate | Childhood Cancer Research | Hearing Impaired Placard | Pink Ribbon/Cancer Awareness |
| Disability Placard | Choose Life | Historic Vehicle | Purple Heart |
| Alternative Fuel | Classic Car | Honorary Foreign Consul | Route 66 |
| Amateur Radio | Congressional Medal of Honor | Horseless Carriage | San Carlos Apache Tribe |
| Arizona Agriculture | Energy Efficient | Hunger Relief | Southwest PGA |
| Arizona Cardinals | Environmental | In God We Trust | Street Rod |
| Arizona Centennial | Extraordinary Educators | Keep Arizona Beautiful | Special Olympics Arizona |
| Arizona Coyotes | Farm Vehicle | Legion of Valor | Thunderbird School of Global Management |
| Arizona Diamondbacks | Families of Fallen Police Officers | Luke Air Force Base | Transplantation Awareness/(Organ Donor) |
| Arizona Highways | Fire Fighter | Masonic Fraternity | U.S. Marine Corps |
| Arizona Historical Society | Firefighter Safety Training | Midwestern University | University of Arizona |
| Arizona Science Center | First Responder | Military Support/Freedom | University of Phoenix |
| Arizona Sportsmen for Wildlife Conservation | Fraternal Order of Police | National Guard | Veteran |
| Arizona State University | Former Prisoner of War | Navajo Nation | White Mountain Apache Tribe |
| Barrett-Jackson | Girl Scouts | Northern Arizona University | Women Veterans |
| Boy Scouts of Arizona | Gold Star Family | Pearl Harbor Survivor | |
| Channel 8 PBS | Golden Rule | Pet Friendly/Spay and Neuter | |
Personalized plates can be acquired through online application, or by filling out the application form which you may submit to the designated recipient.


Transferring of License Plates in Arizona
In general, a license plate can be transferred from one vehicle to another. You can submit a request for plate transfer to Arizona DOT if you meet the requirements. To learn more about transferring license plates in Arizona, visit the Buying and Selling Your Vehicle section.
More Resources for Arizona Drivers:
Buying a used car in Arizona?  Don't make a costly mistake. Run a Free License Plate Lookup for your Arizona-registered vehicle!
Check for accidents. Every year, approximately 6.0 million automobile accidents are reported by the National Highway Traffic Safety Administration.

Check for title brands. Flood, hail-damage, and salvage titles are examples of critical title brands.

Check for special purpose designations, including taxi-use, rental-use, or police-use.

Check for thefts. Lookup a VIN to check for an active theft or previously recovered theft record.
Run a Free Arizona License Plate Lookup to uncover the full-story of your Arizona-registered vehicle.