Arizona Free License Plate Lookup
Discover the truth about any car before purchasing, regardless if it came from a dealer or private seller in Arizona. Check the license plate number to get a free vehicle history report.
VinCheck.info offers free license plate lookup that will reveal past ownership, title information, liens, odometer reading and salvage records. Search license plates registered in the state of Arizona:
Likewise, Arizona DOT contains public records associated with Arizona registered plates. Their records can supplement your information needs about a certain car. You may relay your inquiries in person (office visit). Alternatively, you may contact them via online correspondence (web visit), snail mail, email, or through their office hotline at: 602.255.0072.
Arizona License Plates & Placards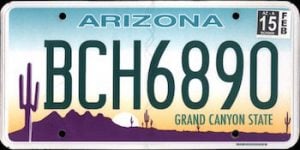 The Restricted Use 3-Day Permit is needed to register/title used or brand new cars in Arizona. They must also undergo the state's emission testing requirement, before they can be registered or titled. Documents about car insurance, ownership, and others might be required for registration/titling. If you acquired your car from a licensed dealer, you may ask for a Temporary Registration plate while waiting for the license plate to arrive. The standard Arizona license plate has three letters and four numbers. Each Arizona-registered car must have a rear license plate to operate. Arizona license plates are produced by the state's Department of Transportation.
If your Arizona license plate has sustained damage or was lost, you may inquire for replacement.
Types of Arizona License Plates
You can select among the seven (7) plate types available in the state of Arizona. Requirements may vary for each plate.

Standard

Education

Military

Government

Organization

Special Causes

Other
Personalized plates can be acquired through online application, or by filling out the application form which you may submit to the designated recipient.
Transferring of License Plates in Arizona
In general, a license plate can be transferred from one vehicle to another. You can submit a request for plate transfer to Arizona DOT if you meet the requirements. To learn more about transferring license plates in Arizona, visit the Buying and Selling Your Vehicle section.
More Resources for Arizona Drivers:
Buying a used car in Arizona?  Don't make a costly mistake. Run a Free License Plate Lookup for your Arizona-registered vehicle!
Check for accidents. Every year, approximately 6.0 million automobile accidents are reported by the National Highway Traffic Safety Administration.
Check for title brands. Flood, hail-damage, and salvage titles are examples of critical title brands.
Check for special purpose designations, including taxi-use, rental-use, or police-use.
Check for thefts. Lookup a VIN to check for an active theft or previously recovered theft record.
Run a Free Arizona License Plate Lookup to uncover the full-story of your Arizona-registered vehicle.