North Carolina Free License Plate Lookup
The state had reported thousands of defect-related vehicle crashes in 2016 alone. Spot problems before they happen to you using the North Carolina free license plate lookup.
VinCheck.info offers free license plate lookup that will reveal past ownership, title information, liens, odometer reading and salvage records. Search license plates registered in the state of North Carolina:
Additionally, you may also fill out the North Carolina DMV's request form to get information about North Carolina cars. The agency can be contacted at (919) 715-7000. Visit the nearest office or the Contact Us page for further assistance.
North Carolina License Plates & Placards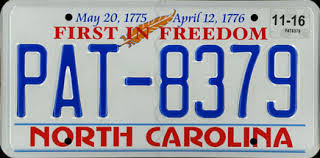 Car owners must comply with the requirements to title/register their vehicles in the state. To do this, new residents are given 30 days. Drivers need to apply for any car insurance premium allowed by the state. Please take note that under certain conditions, your vehicle registration may be rejected. The North Carolina Division of Motor Vehicles is the official license plate provider of the state. Generally, the serial format of passenger license plate includes three letters and four numbers.
To request replacement plates, fill out the replacement plate form and submit an insurance document as proof. Other details are explained on the Lost or Stolen Plates page.
Types of North Carolina Plate
Choose from any of the six (6) plate types and pick the most suitable design for you.
Standard

Special Interests

NASCAR

Military

Collegiate

Civic Clubs
Transferring of License Plates in North Carolina
You need to satisfy the requirements of the DMV to allow a plate transfer. Each transaction costs $20.
More Resources for North Carolina Drivers:
Buying a used car in North Carolina?  Don't make a costly mistake. Run a Free License Plate Lookup for your North Carolina-registered vehicle!
Check for accidents

. Every year, approximately 6.0 million automobile accidents are reported by the National Highway Traffic Safety Administration.

Check for title brands

. Flood, hail-damage, and salvage titles are examples of critical title brands.

Check for special purpose designations

, including taxi-use, rental-use, or police-use.

Check for thefts.

Lookup a VIN to check for an active theft or previously recovered theft record.
Run a Free North Carolina License Plate Lookup to uncover the full-story of your North Carolina-registered vehicle.