Tennessee Free License Plate Lookup
Motor vehicles in Tennessee must be registered at your county clerk's office before being driven on the streets or highways of this state. The owner of a vehicle must process the application for a Certificate of Title and registration at the same time
VinCheck.info offers free license plate lookup that will reveal past ownership, title information, liens, odometer reading and salvage records. Search license plates registered in the state of Tennessee:
Tennessee License Plates & Placards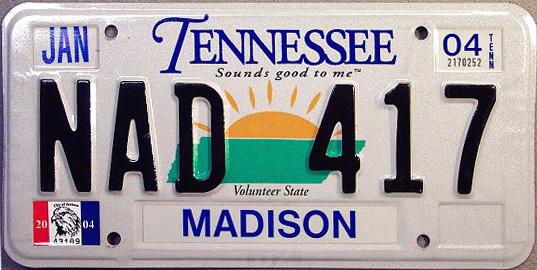 Whether you are moving to Tennessee or acquire a new vehicle, you must register your vehicle at your county clerk's office. To get a Tennessee license plate for a car, vehicle owners must title and register the car in this state.
When registering your motor vehicle, you will be issued one (1) registration plate. The registration plate issued for passenger motor vehicles shall be attached on the rear of the vehicle.
In the event that a plate is lost, mutilated or becomes illegible, you may apply for a replacement of the lost or destroyed plates and pay a fee of ten dollars ($10.00) for each application.
Types of Tennessee License Plates
Personalized plates are available for automobiles and motorcycles. To personalize a regular or specialty plate, submit Application for Tennessee Personalized License Plate to the Vehicle Services Division (44 Vantage Way, Suite 160, Nashville, TN 37243-8050) and pay $35 personalization fee for regular plate or $70 personalization fee for specialty plate.
Transferring of License Plates in Tennessee
Tennessee license plates can be transferred from one vehicle to another for a $1 fee and can be done at your county clerk's office.
More Resources for Tennessee Drivers:
Buying a used car in Tennessee?  Don't make a costly mistake. Run a Free License Plate Lookup for your Tennessee-registered vehicle!
Check for accidents.

Every year, approximately 6.0 million automobile accidents are reported by the National Highway Traffic Safety Administration.

Check for title brands.

Flood, hail-damage, and salvage titles are examples of critical title brands.

Check for special purpose designations

, including taxi-use, rental-use, or police-use.

Check for thefts.

Lookup a VIN to check for an active theft or previously recovered theft record.
Run a Free Tennessee License Plate Lookup to uncover the full-story of your Tennessee-registered vehicle.