Virginia Free License Plate Lookup
When buying a used car in Virginia, get a history check on the vehicle. Purchasing a report will let you know if it has been in an accident, involved in a safety recall or whether the vehicle was properly maintained or not.
VinCheck.info offers free license plate lookup that will reveal past ownership, title information, liens, odometer reading and salvage records. Search license plates registered in the state of Virginia:
Virginia License Plates & Placards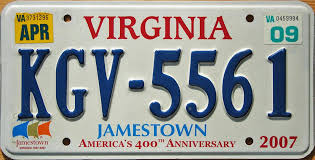 Before you can legally drive in Virginia, your vehicle must have license plates issued by the Virginia DMV. License plates must be displayed on the front and rear of the vehicle. Decals must be placed on the license plates indicating the month and year of expiration of the registration.
If your license plates have been stolen, damaged or are illegible, you can apply for replacements in DMV by completing Form VSA 14. If your plates have been lost or stolen, please report this to your local police department.
Types of Virginia License Plates
Virginia issues more than 200 special license plates which represent the military, colleges and universities, and other special interest organizations.
Virginia DMV issues personalized license plates at a cost of $10 a year. You can use a combination of up to seven characters. Please check availability of personalized character combination before you purchase a plate.
Transferring of License Plates in Virginia
You can transfer your existing license plates from another vehicle to the new vehicle that is registered in your name. The fee for license plate transfer is $2.
Titling Requirements and Procedure in Virginia
Every person who owns a motor vehicle must register with the Virginia DMV and obtain the registration card and certificate of title for the vehicle before it is operated on any highway in the state. You must have the vehicle registration card with you when operating the vehicle.
If you are a new Virginia resident, you must title and register your vehicle and obtain Virginia license plates within 30 days of moving to Virginia. Your vehicle must pass an annual vehicle safety inspection and display a valid safety inspection sticker.
More Resources for Virginia Drivers:
Buying a used car in Virginia?  Don't make a costly mistake. Run a Free License Plate Lookup for your Virginia-registered vehicle!
Check for accidents.

Every year, approximately 6.0 million automobile accidents are reported by the National Highway Traffic Safety Administration.

Check for title brands.

Flood, hail-damage, and salvage titles are examples of critical title brands.

Check for special purpose designations

, including taxi-use, rental-use, or police-use.

Check for thefts.

Lookup a VIN to check for an active theft or previously recovered theft record.
Run a Free Virginia License Plate Lookup to uncover the full-story of your Virginia-registered vehicle.