Wisconsin Free License Plate Lookup
Anyone who operates a motor vehicle on public roadways in Wisconsin is required to have their vehicles titled and registered. To legally operate your vehicle you must display a permanent or temporary plate within two business days of purchase.
VinCheck.info offers free license plate lookup that will reveal past ownership, title information, liens, odometer reading and salvage records. Search license plates registered in the state of Wisconsin:
Wisconsin License Plates & Placards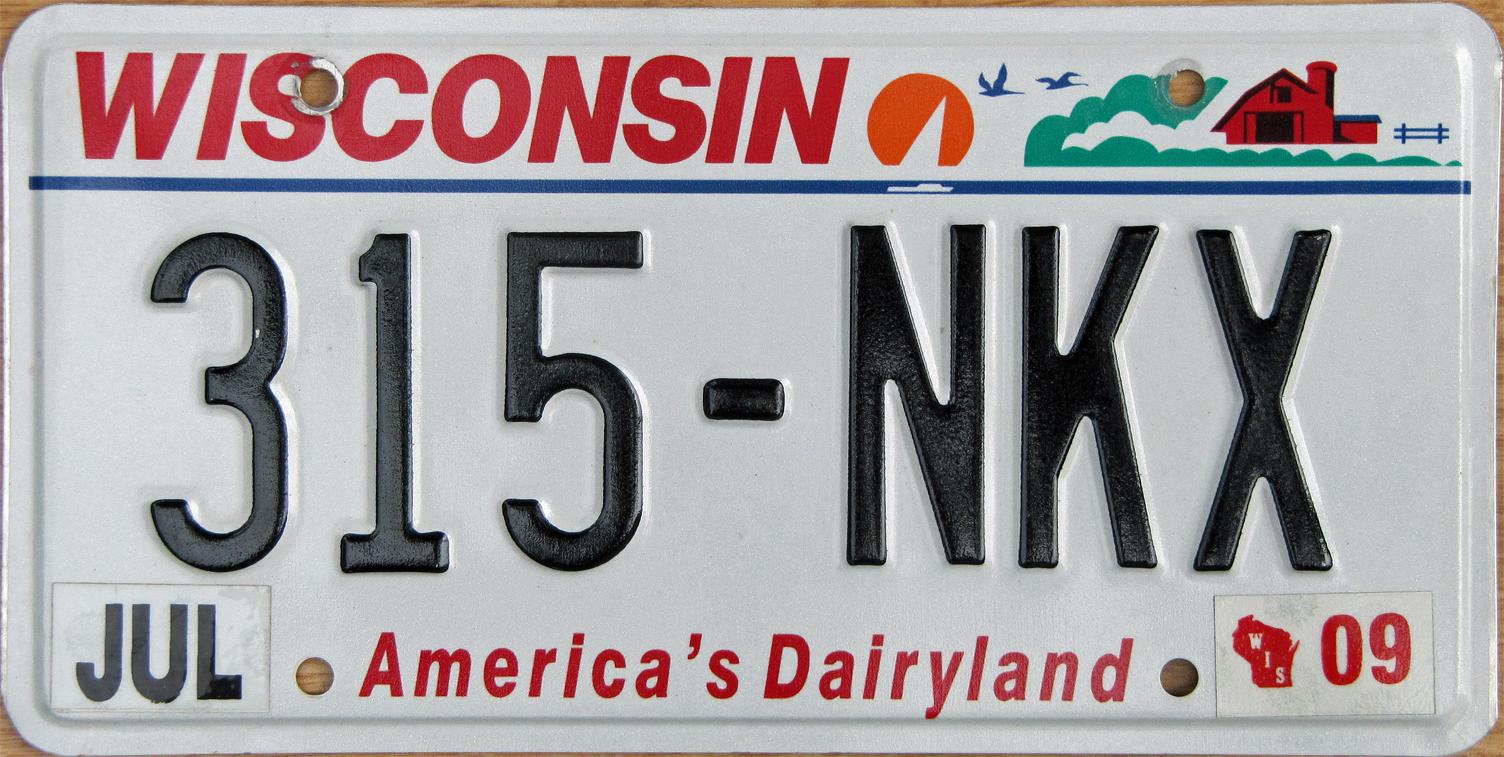 Wisconsin law requires that when WisDOT issues two license plates, both plates must be attached to the vehicle; one on the front and one on the rear. The plates must be maintained in a legible condition and displayed so that they can be seen and read. License plate brackets that cover any part of the readable message on a license plate are illegal.
State law also requires that registration month and year stickers must be affixed to the REAR license plate, right side up and may not cover any letters, numbers or other registration information.
If your license plates need to be replaced because one or both of the plates have been lost, stolen, damaged, or are illegible, you must obtain replacement plates. You may order replacement plates online or submit an application by mail or in person. A new license plate number will be issued. When you receive your new plate, destroy the old plate.
Types of Wisconsin License Plates
Wisconsin issues a variety of license plates and registration stickers, depending on the design and use of the vehicle or the owner's special interest, such as automobile for regular passenger vehicles, Disabled parking for vehicles owned or used by persons with disabilities, and Collector for vintage vehicle enthusiasts. Vehicles registered under the International Registration Plan (IRP) are issued apportioned plates. See special license plates or the Wisconsin license plate guide for more information.
WisDOT offers personalized messages for many standard design license plates and a variety of special plates for autos, light trucks, motorcycles and motor homes. Depending on the type of plate, personalized messages can be from one to seven letters and/or numbers. The personalized plate search allows you to check the availability of a personalized plate message before mailing your personalized plate application. Local DMV service centers do not process the personalized plate applications.
Transferring of License Plates in Wisconsin
If you would like to transfer plates in your name to a different vehicle in your name, you can use this online service. Check which license plates may be transferred online to confirm if this online service will work for your vehicle. Plates are transferable between spouses or same sex domestic partners.
If your plate does not qualify to be transferred online, complete and sign Wisconsin Title & License Plate Application form MV1. You may bring the completed MV1 to any DMV customer service center offering title and registration services for immediate processing for an additional $5 counter service fee.
More Resources for Wisconsin Drivers:
Buying a used car in Wisconsin?  Don't make a costly mistake. Run a Free License Plate Lookup for your Wisconsin-registered vehicle!
Check for accidents.

Every year, approximately 6.0 million automobile accidents are reported by the National Highway Traffic Safety Administration.

Check for title brands.

Flood, hail-damage, and salvage titles are examples of critical title brands.

Check for special purpose designations

, including taxi-use, rental-use, or police-use.

Check for thefts.

Lookup a VIN to check for an active theft or previously recovered theft record.
Run a Free Wisconsin License Plate Lookup to uncover the full-story of your Wisconsin-registered vehicle.