Arizona Vehicle Registration: Complete Guide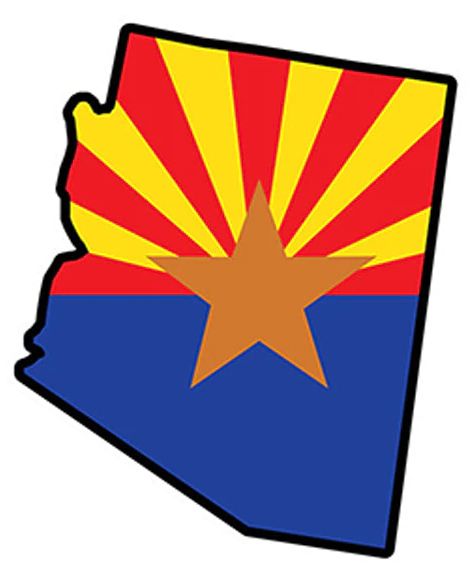 When you buy a car in Arizona, your responsibility as the owner begins with Arizona vehicle registration. Owners like you are doing the same regardless of whether the car is bought in Arizona or outside the state. The registration process protects new owners by documenting the legality of their possession of the car. In the same way, registration records serve as one of the sources of vehicle data for millions of consumers looking for used cars to buy. All it takes is to run a VIN check to get a vehicle history report.
Dealerships may take care of the registration for you, otherwise you must register your car with the Arizona DMV called the Motor Vehicle Division (MVD) of the Arizona Department of Transportation. The state ranked 14th based on number of automobiles registered in 2017, with almost 2.5 million registered cars. VINCheck.info gathered some information to guide you through the registration process:
How to Register a Car in Arizona
If you have purchased a car from Arizona, state law requires that you apply for a title (new car) or a transfer of title (used car) and registration within 15 days of purchase. This can be done simultaneously. Take the application to any of the MVD state offices or any of the 160 privately owned Authorized Third Party office.
Here are the requirements:
Completed and signed Title and Registration Application
Signed and notarized vehicle title
Lien release (if applicable)
Proof of insurance
Emissions testing results (check here if required)
Any other documents that apply (original or certified copy of power of attorney, personal representative papers, etc.)
Written permission from the lienholder/lender if there is a lien on the used vehicle that has not been paid off
Photo identification ( for example, driver's license, ID card, etc). Check out the list of acceptable documents.
All applicable title and registration fees
For more details, visit the Arizona MVD page for items needed for title and registration.
Other Types of Vehicle Registration in Arizona
30-Day General Use Permit (one per vehicle within any 12-month period) if you do not qualify for a permanent registration or other types of temporary permits. You may also purchase the permit online.
90-Day Registration if you are an Arizona resident and you do not have complete documentation for issuance of a title or registration. You may use the vehicle while obtaining additional documentation.
Five-Year Registration is available if your vehicle is not subject to emissions testing compliance for the entire five-year registration cycle
How to Register Your Vehicle as a New Arizona Resident
Vehicle registration is required once vehicle owner acquires the official resident status due to any of the following:
employment in Arizona (except seasonal agricultural work)
voter registration in Arizona
enrollment of children in school (not paying non-resident tuition rate)
operation of business and use of vehicles in Arizona
operation of business to transport goods or passengers within Arizona
residence in Arizona for a total of seven months or more during any calendar year (regardless of your permanent residence)
If you have purchased a car in the state, follow the requirements stated in the section above. For a vehicle that was brought or purchased from outside Arizona, submit the requirements in the next section.

How to Register an Out-of-State Vehicle in Arizona
Here are the requirements to submit at the MVD or Authorized Third Party office.
Completed and signed Title and Registration Application
Emission compliance form (Phoenix and Tucson areas only)
Level I vehicle inspection, if out-of-state title and/or registration is missing
Out-of-state title or registration documents (if title is held by lienholder)
Out-of-state license plates
Lien clearance (if applicable)
Power of Attorney from the lessor (original or certified copy) for a leased vehicle
Payment of all applicable title and registration fees
How to Register a Vehicle Imported from Another Country
Before importing a vehicle into Arizona, make sure to check first if your vehicle can indeed be registered in the state.
License plate assigned to the vehicle
Registration card
Certificate of ownership or other evidence of foreign registration
Satisfactory evidence of ownership showing that the applicant is the lawful owner or possessor of the vehicle.
Certificate of compliance to all federal vehicle equipment and emissions equipment requirements
Examination and inspection to establish compliance with environmental quality
For more details, inquire at any Arizona MVD or Authorized Third Party office.

How to Re-register a Salvaged Vehicle in Arizona
Here are the requirements for registering a vehicle previously reported as a total loss (salvaged):
Completed Title and Registration Application
Level III inspection results with these documentary requirements:

Proof of ownership (usually a title)
Valid driver's license
Receipts or invoices for all component parts that have been repaired or replaced.

Emissions compliance certificate (if applicable)
Salvage title
Applicable fees
For more information, check out the ADOT MVD's FAQs on Vehicle Inspection and Salvage Vehicles.

How Do I Change My Address with Arizona MVD?
You must notify the Arizona MVD within 10 days of changing your address. No fees are required for address change. Provide your name, date of birth, and driver license or identification card number. You may change your address online or contact the MVD:
602.255.0072 (Phoenix)
602.712.3222 (Hearing/Speech Impaired TDD Phoenix)
520.629.9808 (Tucson)
800.324.5425 (Hearing/Speech Impaired TDD Elsewhere)
Elsewhere in Arizona: 800.251.5866
Office hours:
Monday to Friday (except on state holidays)
8 a.m. to 5 p.m. (Customers on hold by 4:30 p.m. will be served)
Arizona Department of Transportation
Motor Vehicle Division
4005 N. 51st Avenue
MD 555M
Phoenix, AZ 85031
Vehicle Registration or Renewal for Military Personnel in Arizona
If you are a resident of Arizona on active military duty and stationed out of state, you may renew your vehicle registration through the following:
Mail (pay by check or money order only)
Arizona Department of Transportation
Motor Vehicle Division
PO Box 29035
Phoenix, AZ 85038
Apply for any of these exemptions if applicable by mail or in person at the MVD or Authorized Third Party office:
Out-of-state emissions exemption if you own a vehicle that is located out of state at the time of registration renewal and is required to be emissions tested from the AZ Department of Environmental Quality.
Registration Penalty Fee Waiver, Non-Use if your vehicle registration expires and the vehicle is not being driven or is in storage
De-Insured Certificate (online submission) if you wish to maintain the current registration on a temporarily unused vehicle that you own or lease
Arizona Vehicle Registration Renewal
Renew your registration every year.  Check your renewal notice or current registration to see whether your due date is on the 15th or the last day of the month. The MVD sends a registration renewal reminders via mail or email one month prior to expiration. Renew your registration by the due date whether or not you receive this courtesy notice. The renewal notice is not required to renew; just use your current (or expired) registration document.
Here are your options for renewal:
By phone using the MVD automated phone system at 888.713.3031
Early renewal (based on an emissions test requirement):

Up to six (6) months before the expiration (if an emissions test is not required)
Up to three (3) months before the expiration if an emissions test is required (renew your registration by showing your current registration at the test station)

In person at the Arizona MVD or Authorized Third Party office
Arizona Vehicle Registration Fees
Registration

Registration fee: $4.50, $8.00 or $9.00 depending on the type of vehicle
Air quality fee: $1.50
Air quality compliance fee: 0.25 (depending on the location the vehicle is being operated in)
Vehicle license tax (VLT) based on assessed value 60% of the manufacturer's base retail price reduced by 16.25% for each year since the vehicle was first registered in Arizona (15% before 8/1/98)

As of December 1, 2000 reduction for each $100 of the assessed value: $2.80 for new vehicles or $2.89 for used vehicles

90-day Registration: $15
30-day Permit: $15
Five-Year Registration: only a one-year registration fee for the entire period (vehicle license tax and other applicable fees are calculated and paid for five years at the time of registration)
Late registration
Initial fee: $8
Plus an additional $4 for each month past due