Florida Vehicle Registration: Complete Guide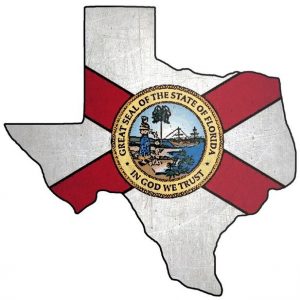 Buying a used car in Florida? Avoid the hassles when you start the Florida vehicle registration process. Make sure the title being signed over to you is correct and has no legal issues. If you can get the VIN number, you can use them to get a history report. Lookup the VIN and get a detailed vehicle report to reveal all the vehicle past that the seller did not disclose.
VinCheck.info offers a 100% free vehicle history report. Simply enter the VIN below:
In the state of Florida, all motor vehicles are required to be registered with the Department of Highway Safety and Motor Vehicles (DHSMV). Vehicle registration includes a license plate, validation decal, and registration card or certificate. It is proof of having paid the necessary registration tax and fees on a motor vehicle.
Check out all the information you need here at VINCheck.info if you want to:
Florida License Plates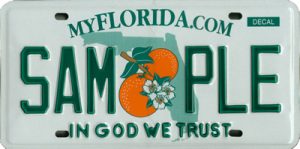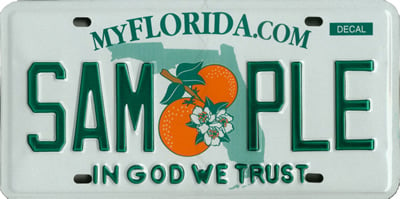 In Florida, a motor vehicle is required by law to have a license plate displayed with a validation decal properly attached in order to operate on the state's public roads and highways.
Florida offers three standard license plate options including the county name plate (not available in all counties), "Sunshine State" plate and the "In God We Trust" plate.
As per Florida Statutes, section 320.06(1)(b), all license plates must be replaced every 10 years. The replacement is necessary because license plates must be fully reflectorized to ensure visibility for law enforcement purposes.

How to Register your Vehicle as a New Florida Resident
You need to accomplish the following to be able to get official recognition as a Florida resident:
Filing a Declaration of Domicile in Florida
Secure your valid Florida driver's license
Register to be able to vote in Florida
Opening an account in a local Florida bank
Notifying the tax officials of your former state that you're moving to Florida
Stop paying taxes in your former state and start paying taxes in Florida
If you're buying a home in Florida, you can apply for the Florida Homestead Exemption (optional)
Updating your estate plan to follow Florida legislation
Register your vehicles at the local DMV
Once you have established your Florida residency, you will have 30 days to register and get the title for your vehicles with the local DHSMV. You are required to secure the title on the same day you register your vehicles. You will also need to have the following documents ready:
Florida driver's license
Auto insurance documents obtained in Florida
Out-of-state title of your vehicle
Verified VIN
Completed VIN and verified odometer reading
Payment of registration and tax fees
Any vehicle you buy or obtain in any other manner must be registered in Florida. If you bought the vehicle from a dealer, you can get a temporary license plate from them while they process the title and registration for you.
If you bought your vehicle from a private seller, you will be required to register that vehicle in your own name. You will need to provide the following:
Completed title
Completed odometer and mileage disclosure
Auto insurance
Completed Application for Certificate of Title With/Without Registration
Completed VIN and verified odometer reading
Payment of registration fees
How to Register an Out-of-State Vehicle in Florida
If you are not considered a Florida resident or have a vehicle that is registered out of state, you can still drive that vehicle in Florida using the current valid registration from another state. You will just need to provide the DMV with the following:
Certificate of Title (or pink slip)
Copy of auto insurance obtained in Florida
Valid identification such as driver's license, state ID, passport, etc.
Completed application for title and registration
Completed VIN inspection and verified odometer reading
Just proceed to the Florida county tax collector's office, show the documents including the out-of-state title, and verify your vehicle's VIN on the Vehicle Identification Number and Odometer Verification form (Form HSMV 82042).
You can opt to have the VIN verified at the county tax office itself or have it completed before registering your vehicle. You can do that at any of the following:
Florida car dealers
Any police officer
Florida DMV inspectors
Florida notary public
Active duty military officers, provost marshal, or Navy legalman
Car dealer from previous state using their official dealership letterhead
You should then complete and submit the Application for Certificate of Title With/Without Registration (Form HSMV 82040). All owners must sign the form and all should present proof of identity, even if they are not present. Afterwards, all that's needed is to pay the registration and tax fees.

How to Re-register a Salvaged Vehicle in Florida
Vehicles that have been damaged in accidents beyond repair are considered as "salvaged" vehicles. In Florida, any vehicle is considered as "salvaged" if the insurance company has made payment to the vehicle owner for replacing a stolen or damaged vehicle, or if the vehicle has been damaged to the extent that repair costs would reach 75-80% more than the current market value of the vehicle.
There are cases where some vehicles that have been considered as "salvaged" will have been repaired or restored to a point where they can be safely operated again. After the DHSMV has inspected these vehicles and declared them safe for the road, these vehicles will be re-classified as "rebuilt".
To re-register the rebuilt vehicle, you will need to acquire the following from the Florida DMV:
Proof of ownership
Original bills of sale or receipts with the name, address, and signature of the seller for all major component parts
Paid Florida sales tax
Original photographs of the vehicle in its "salvaged" condition
The examiner will inspect your submitted documents and will give to you a sealed envelope with the original forms you submitted. You should then proceed to the tax collector's office and submit the sealed envelope with its contents. The contents will be verified by the agency and once this has been completed, you will now be allowed to transfer an existing license plate or obtain a new one for your rebuilt vehicle.

How Do I Change My Address with Florida DMV?
In Florida, you must change your vehicle registration address within 30 days after your move. You can notify the DMV of your change of address either in person or online.
To update your vehicle registration in person, you need to bring the following to Florida DMV:
Driver's license.
Proof of identity (Birth certificate, valid U.S. passport or passport card, Certificate of Citizenship, Certificate of Naturalization, or Consular Report of Birth Abroad)
Your car's original out-of-state title
Completed form HSMV 82040 (Application for Certificate of Title With/Without Registration)
To change the address on your vehicle registration online, you can do it here. You will need:
Your Florida driver's license number
Your license plate number or vehicle identification number (VIN)
Your date of birth
The last four digits of your social security number
NOTE: Changes in address must be updated on BOTH your driver license/ID Card and title/registration within 30 days after changing your address. You are not required to apply for a duplicate vehicle title when you change your address in Florida.
How to Transfer a Vehicle Between Family Members
To transfer a vehicle between family members in Florida, you need the following:
Certificate of Title
Bill of sale
Completed form HSMV 83330 (Florida Insurance Affidavit)
Payment to title fees and registration fees
NOTE: You will not be charged for sales tax on the title transfer as long as there's no payment for the transfer and the new owner doesn't assume any outstanding lien. The new owner should claim the sales tax exemption at the time of transfer.
Military Vehicle Registration in Florida
As authorized by the United States Federal Code for the Soldiers' and Sailors' Relief Act of 1940, out-of-state military residents who are deployed in Florida are allowed to display a current license plate from their home state, but have the option to title and register their vehicles in Florida.
Military members who are both Florida residents and non-residents stationed in Florida on military orders are exempt from the $225 initial registration fee on a motor vehicle. The service member claiming the exemption must complete and sign Initial Registration Fee Exemption Affidavit (HSMV form 82002) along with any required documents and bring it to a local motor vehicle service center.
Florida National Guard Members
All active Florida National Guard members are eligible for one tax-free license plate registration or renewal each year. However, the fees for any plate other than the standard Florida plates are due when applicable. The qualifying guard member and their first sergeant or commanding officer must complete Form Application for Military Service Related License Plates (HSMV form 83034) and bring it in to a local motor vehicle service center annually.

Vehicle Registration Renewal in Florida
In the state of Florida, vehicle registration expires on your birthday. If it's a company-owned vehicle the expiration date would be the date the vehicle was initially registered. There are several ways you can renew your vehicle registration with the FLDHSMV.
How to Renew Your Florida Vehicle Registration in Person
To renew your vehicle registration in person, you'll have to visit your local FL DMV office and bring the following:
Renewal reminder or current registration card.
Driver's license.
Proof of auto insurance
Payment for necessary fees.
How to Renew Your Florida Vehicle Registration Online
When using online vehicle registration, you will need to:
Enter your vehicle information.
Enter your date of birth (or the date of registration if company-owned vehicle).
Enter the last 4 digits of your social security number.
Pay your renewal fee and the online tag renewal convenience fee.
How to Renew Your Florida Vehicle Registration By Mail
You can only renew your vehicle registration by mail if it is indicated in your registration renewal reminder that you can do so. This option may not be available to all Florida drivers or in all Florida counties.
Florida Vehicle Registration Fees
The fees listed below represent the base vehicle tax only. Other statutory fees apply. Registration use, license plate type and class code are used to determine registration fees. The class code is determined by the vehicle weight, body type, vehicle type and registration use.
| | |
| --- | --- |
| Motorcycles | $10.00 |
| Moped | $5.00 |
| Antique motorcycle | $7.50 |
| Antique automobile | $7.50 |
| Automobiles (Net weight up to 2,499 pounds) | $14.50 |
| Automobiles (2,500 – 3,499 pounds) | $22.50 |
| Automobiles (3,500 or more pounds) | $32.50 |
| Autocycle | $10.00 |
| Trucks (Net weight up to 1,999 pounds) | $14.50 |
| Trucks -based on weight (2,000 – 3,000 pounds) | $22.50 |
| Trucks -based on weight (3,001 – 5,000 pounds) | $32.50 |
| Goat Truck | $7.50 |
| Antique Truck | $7.50 |
| Heavy Truck (5,001 – 5,999 pounds) | $60.75 |
| Heavy Truck (6,000 – 7,999 pounds) | $87.75 |
| Heavy Truck (8,000 – 9,999 pounds) | $103.00 |
| Heavy Truck (10,000 – 14,999 pounds) | $118.00 |
| Heavy Truck (15,000 – 19,999 pounds) | $177.00 |
| Heavy Truck (20,000 – 26,000 pounds) | $251.00 |
| Heavy Truck (26,001 – 34,999 pounds) | $324.00 |
| Heavy Truck (35,000 – 43,999 pounds) | $405.00 |
| Heavy Truck (44,000 – 54,999 pounds) | $773.00 |
| Heavy Truck (55,000 – 61,999 pounds) | $916.00 |
| Heavy Truck (62,000 – 71,999 pounds) | $1,080.00 |
| Heavy Truck (72,000 or more pounds) | $1,322.00 |
| Heavy Truck/Tractor 150 mile radius | $324.00 |
| Heavy Truck/Tractor (Agriculture 150 miles) | $87.75 |
| Heavy Truck/Tractor | $324.00 |
| Semitrailers per registration year | $13.50 |
| Semitrailers permanent registration | $68.00 |
| Special Purpose Vehicles | $44.00 |
| School Buses | $41.00 |
| Wrecker | $41.00 |
| Other Wreckers (10,000 – 14,999 pounds) | $118.00 |
| Other Wreckers (15,000 – 19,999 pounds) | $177.00 |
| Other Wreckers (20,000 – 25,999 pounds) | $251.00 |
| Other Wreckers (26,000 – 34,999 pounds) | $324.00 |
| Other Wreckers (35,000 – 43,999 pounds) | $405.00 |
| Other Wreckers (44,000 – 54,999 pounds) | $772.00 |
| Other Wreckers (55,000 – 61,999 pounds) | $915.00 |
| Other Wreckers (62,000 – 71,999 pounds) | $1,080.00 |
| Other Wreckers (72,000 or more pounds) | $1,322.00 |
| Hearse or ambulance | $40.50 |
| Motor vehicles for hire (under 9 passengers) | $17.00 |
| cwt (weight per hundred pounds) | $1.50 |
| Motor vehicles for hire (over 9 passengers) | $17.00 |
| cwt (weight per hundred pounds) | $2.00 |
| Trailers for private use (under 500 lbs) | $6.75 |
| Trailers for private use (over 500 lbs) | $3.50 |
| cwt (weight per hundred pounds) | $1.00 |
| Trailers for hire (under 2000 lbs) | $3.50 |
| cwt (weight per hundred pounds) | $1.50 |
| Trailers for hire (over 2000 lbs) | $13.50 |
| cwt (weight per hundred pounds) | $1.50 |
| Recreational Vehicles (5th wheel) | $27.00 |
| Recreational Vehicles (camping trailer) | $13.50 |
| Recreational Vehicles (under 4,500lbs) | $27.00 |
| Recreational Vehicles (over 4,500 lbs) | $47.50 |
| Dealer and Manufacturer License Plate | $17.00 |
| Exempt/Official License Plates | $4.00 |
| Locally Operated Motor Vehicles for hire | $17.00 |
| cwt (weight per hundred pounds) | $2.00 |
| Transporter | $101.25 |
| Commercial Motor Vehicle Surcharge on vehicles 10,000 lbs or more | $10.00 |
| Original/Replacement License Plate Fee | $28.00 |
| Initial Registration Fee | $225.00 |