Ohio Free License Plate Lookup
Countless vehicles were given cloned VINs from identical vehicles. Many of these cars are sold as new to unsuspecting victims. Thankfully, VinCheck.info has a free license plate lookup that may uncover a car's actual history without relying on a given VIN.

VinCheck.info offers free license plate lookup that will reveal past ownership, title information, liens, odometer reading and salvage records. Search license plates registered in the state of Ohio:
The Ohio Bureau of Motor Vehicles is the official distributor of license plates intended for the state. Contact the agency at (844) 644-6268. If you wish to contact the BMV's sub-agencies, visit the Contacts page.
Ohio License Plates & Placards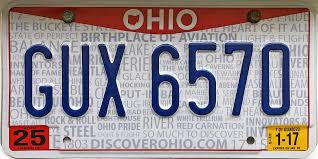 You need an insurance if you want to drive any vehicle in Ohio. Submit the requirements to any Ohio deputy registrar license office to register your vehicle. Ohio Bureau of Motor Vehicles requires a serial format with three letters and four numerical digits as the standard for Ohio license plates.
Request a replacement/duplicate for your lost or mutilated plate by filling out the application form. It may take four weeks to process your request.
Ohio Specialized Plates
There are seven (7) specialized plate types available for you to choose:
Request a specialized license plate by filling out the application form.
Transferring of License Plates in Ohio
A request to transfer a plate can be done by filling out the request form. Transferring a plate costs $4.50 for passenger vehicles.
More Resources for Ohio Drivers:
Buying a used car in Ohio?  Don't make a costly mistake. Run a Free License Plate Lookup for your Ohio-registered vehicle!
Check for accidents

. Every year, approximately 6.0 million automobile accidents are reported by the National Highway Traffic Safety Administration.

Check for title brands

. Flood, hail-damage, and salvage titles are examples of critical title brands.

Check for special purpose designations

, including taxi-use, rental-use, or police-use.

Check for thefts.

Lookup a VIN to check for an active theft or previously recovered theft record.
Run a Free Ohio License Plate Lookup to uncover the full-story of your Ohio-registered vehicle.