Hawaii Free License Plate Lookup
If you're buying a used car in Hawaii, get as much information about the car as possible. Make sure to get a vehicle history report to check whether the car has been salvaged, rebuilt, flooded or reported as stolen.
VinCheck.info offers free license plate search that will reveal past ownership, title information, liens, odometer reading and salvage records. Search license plates registered in the state of Hawaii:
Hawaii License Plates & Placards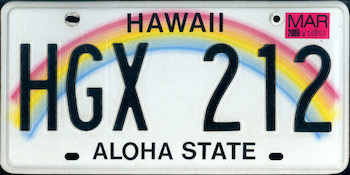 If you live in Hawaii, your vehicle must have a license plate with a sticker that shows how long it is valid. To apply for your Hawaii tags, you must register your vehicle with your county's motor vehicle office. Each county has its own registration process, requirements, and fees.
Proof of Hawaii motor vehicle insurance is required to obtain a vehicle inspection, and the vehicle inspection sticker and certificate are necessary to operate a vehicle on all Hawaii roads and for all vehicle ownership-registration transactions.
If your license plates or emblem are lost, damaged or stolen, you can order replacements from your county DMV in Hawaii. The process to get replacements differs for each county. They are available at a full-service Satellite City Hall or by mailing to the Division of Motor Vehicles and Licensing, P.O. Box 30330, Honolulu, Hawaii 96820-0330.
Types of Hawaii License Plates
Several types of special license plates are available to Hawaii residents. The state offers specialty license plates, including military honor plates and personalized tags. Different plates and decals may be available in each of Hawaii's counties. Application processes and fees may vary from county to county. Check with your local Hawaii motor vehicle licensing office for details.
To order your Personalized License Plate on-line and for more information, go to HONOLULU's On-Line Special Personalized Plate Order System.
Transferring of License Plates in Hawaii
You'll usually be able to transfer your tags when you sell or trade a vehicle and buy another one. You may transfer them to another vehicle or surrender them at your local motor vehicle office. There is no central Hawaii DMV office. Hawaii title transfers are handled at the county level.
Titling Requirements and Procedure in Hawaii
Hawaii does not have a state-wide Department of Motor Vehicles, and vehicle titles and registration are handled separately by each of the four counties. You can apply for license plates in Hawaii in person at your county DMV office.
City & County of Honolulu
County of Hawaiʻi
County of Maui
County of Kauaʻi
More Resources for Hawaii Drivers:
Buying a used car in Hawaii?  Don't make a costly mistake. Run a Free License Plate Lookup for your Hawaii-registered vehicle!
Check for accidents. Every year, approximately 6.0 million automobile accidents are reported by the National Highway Traffic Safety Administration.
Check for title brands.

Flood, hail-damage, and salvage titles are examples of critical title brands.

Check for special purpose designations

, including taxi-use, rental-use, or police-use.

Check for thefts.

Lookup a VIN to check for an active theft or previously recovered theft record.
Run a Free Hawaii License Plate Lookup to uncover the full-story of your Hawaii-registered vehicle.