Illinois Free License Plate Lookup
Some bad cars might be passed out as good cars despite honest intent. Review a car's history report for free using its license plate number.

VinCheck.info offers free license plate lookup that will reveal past ownership, title information, liens, odometer reading and salvage records. Search license plates registered in the state of Illinois:
The Illinois Secretary of State Office is another excellent source of Illinois vehicle information. For inquiries, you may call at 217-785-3000 (Outside Illinois) / 800-252-8980 (Toll-free in Illinois). You may also visit the Contact page.
Illinois License Plates & Placards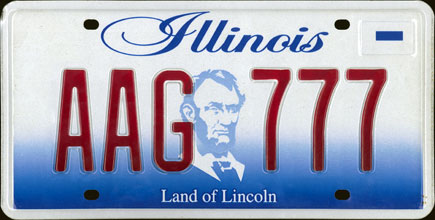 Drivers have 30 days to register their cars upon entering the state or purchasing a vehicle. Afterward, a temporary registration permit will be provided as you wait for your license plates. You can use the permit to drive up to 90 days or until your license plates arrive. The Secretary of State Office of Illinois is the official provider of license plates in the state. The state's standard license plate must contain three letters and four numerical digits, while each car must display two license plates: one each for the rear and the front parts.
Request for a replacement plate/sticker if your plate/sticker is damaged or missing. A replacement for one plate costs $6, while for both license plates it's $9. Stickers cost $20 each.
Types of Illinois License Plates
The state has eleven (11) license plate designs which you can order for your car:
Passenger

Persons with Disabilities

Specialty

Antique

Collegiate Series

Pan Hellenic Series

First Responders

Military Series

Recreational Trailer/Vehicle

Sporting Series

Professional Sports
Your vehicle must be properly titled and registered in your name before you can request a personalized or vanity plate. Vehicles that are leased, in a trust, or were registered by a business entity are not eligible for any personalized or vanity plate.
Transferring of License Plates in Illinois
In general, you can process a license plate transfer to any vehicle that you owned. However, you cannot transfer the ownership of your license plate to another person or entity. Visit the Transferring Plates page for more information.
More Resources for Illinois Drivers:
Buying a used car in Illinois?  Don't make a costly mistake. Run a Free License Plate Lookup for your Illinois-registered vehicle!
Check for accidents.

Every year, approximately 6.0 million automobile accidents are reported by the National Highway Traffic Safety Administration.

Check for title brands.

Flood, hail-damage, and salvage titles are examples of critical title brands.

Check for special purpose designations

, including taxi-use, rental-use, or police-use.

Check for thefts.

Lookup a VIN to check for an active theft or previously recovered theft record.
Run a Free Illinois License Plate Lookup to uncover the full-story of your Illinois-registered vehicle.