Iowa Free License Plate Lookup
Unsure about Iowa used cars for sale? Confirm your suspicions by running the Iowa free license plate lookup. Enter any Iowa VIN to get a free vehicle history report.
VinCheck.info offers free license plate lookup that will reveal past ownership, title information, liens, odometer reading and salvage records. Search license plates registered in the state of Iowa:
The Iowa Department of Transportation has records that may guide you with your vehicle shopping. You may call at 515-237-3110 for inquiries about vehicle registration. Visit the Help Center page if you need further assistance.
Iowa License Plates & Placards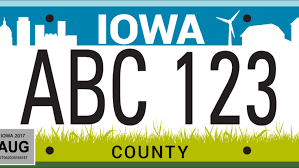 You must register your vehicle at any county treasurer's office within 30 days of becoming a resident. In addition, your record about current ownership and your Iowa certificate of title/registration are needed to register. Registration fees may vary per county treasurer's office. If you moved into another county, you must inform your previous county treasurer about your new address within 10 days of establishing residency. This will allow your vehicle registration to be transferred to your new county. The Iowa Department of Transportation is the official license plate provider of Iowa. Each Iowa passenger plate has three letters and three numbers in general. Like most states, Iowa issues two license plates for each vehicle. One plate is placed on the front, while another plate is placed on the rear.
Request a duplicate plate for $10 each to replace your lost/stolen one. Applicants inside Iowa may need to provide a proof of identity to request a duplicate plate. If you were outside the state and unable to request for a duplicate plate, you may need a temporary driving permit to drive your vehicle inside the state.
Types of Iowa License Plates
There are four (4) plate types containing (72) plate designs available in Iowa. Requirements may vary for each plate design:
Regular

College and University Plates

Military Service Plates

Other Plates
Transferring of License Plates in Iowa
A plate transfer should be indicated on the registration receipt upon vehicle sale. You may visit the How to Sell Your Vehicle in Iowa page to learn more about license plate transfer in the state.
More Resources for Iowa Drivers:
Buying a used car in Iowa?  Don't make a costly mistake. Run a Free License Plate Lookup for your Iowa-registered vehicle!
Check for accidents

. Every year, approximately 6.0 million automobile accidents are reported by the National Highway Traffic Safety Administration.

Check for title brands

. Flood, hail-damage, and salvage titles are examples of critical title brands.

Check for special purpose designations

, including taxi-use, rental-use, or police-use.

Check for thefts.

Lookup a VIN to check for an active theft or previously recovered theft record.
Run a Free Iowa License Plate Lookup to uncover the full-story of your Iowa-registered vehicle.