Kentucky Free License Plate Lookup
If you are buying a used car in kentucky, make sure you have verified the car's history. Check whether the vehicle is not rebuilt, flooded, or involved in a safety recall. By doing a license plate lookup, you can check these things, as well as the vehicle's repair history.
VinCheck.info offers free license plate lookup that will reveal past ownership, title information, liens, odometer reading and salvage records. Search license plates registered in the state of Kentucky:
Kentucky License Plates & Placards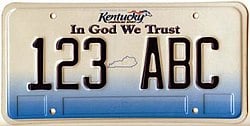 Kentucky vehicles must have a license plate issued by the Kentucky Transportation Cabinet (KTC). Your license plate must have a sticker identifying the month and year the registration expires.
To replace a lost or stolen plate, the County Clerk will issue a standard issue plate and submit a request to have the plate remade. When a personalized plate is damaged, it must be returned to the County Clerk's office in the customer's county of residence. The County Clerk will issue the customer a standard issue plate and submit a request to have the damaged personalized plate remade.
Types of Kentucky License Plates
Kentucky issues over 150 different types of passenger and motorcycle license plates. License plates can be categorized into the following types: Regular (Standard Issue), Special, University, Independent College, Military, Military Motorcycle, Miscellaneous, Disabled, and Special Motorcycle Plates. For a list and image of all plates, visit the Plate List application page.
Standard issue passenger plates (Unbridled Spirit and In God We Trust), the standard issue motorcycle plate, military plates and special plates can be personalized. All personalized plate requests must be pre-approved by the Cabinet's Personalized Plate Review Committee prior to submitting an application to your County Clerk.
Transferring of License Plates in Kentucky
If a vehicle has been issued a special license plate and the owner of the vehicle wishes to surrender the plate and exchange it for a different special license plate, the owner may, at the time he or she renews the vehicle's annual registration, exchange the special plate without being required to obtain a regular registration plate.
An owner requesting to exchange a special license plate shall be required to surrender the special license plate issued to the vehicle and the appropriate certificate of registration to the county clerk of the county where the person lives.
Titling Requirements and Procedure in Kentucky
All motor vehicles operated upon Kentucky roadways must be titled and registered. Application for registration must be made to the County Clerk in the owner's county where the vehicle will be operated. You must register a vehicle in Kentucky within 15 days of becoming a resident or purchasing a vehicle. For new residents, immediately upon establishing residency in the state, a Kentucky license plate must be purchased.
More Resources for Kentucky Drivers:
Buying a used car in Kentucky?  Don't make a costly mistake. Run a Free License Plate Lookup for your Kentucky-registered vehicle!
Check for accidents. Every year, approximately 6.0 million automobile accidents are reported by the National Highway Traffic Safety Administration.
Check for title brands.

Flood, hail-damage, and salvage titles are examples of critical title brands.

Check for special purpose designations

, including taxi-use, rental-use, or police-use.

Check for thefts.

Lookup a VIN to check for an active theft or previously recovered theft record.
Run a Free Kentucky License Plate Lookup to uncover the full-story of your Kentucky-registered vehicle.