Missouri Free License Plate Lookup
Owning a vehicle is a serious investment. If something goes wrong with its engine, the repair might cost you heavily. You may need to evaluate the merits of each vehicle on sale using vehicle history reports.

VinCheck.info offers free license plate lookup that will reveal past ownership, title information, liens, odometer reading and salvage records. Search license plates registered in the state of Missouri:
Additionally, the Missouri Department of Revenue may give you the vehicle information you need about Missouri vehicles. Contact at 573-526-3669 (Ext 6, Option 2) to ask for vehicle records. For other inquiries, visit the Contact Information page.
Missouri License Plates & Placards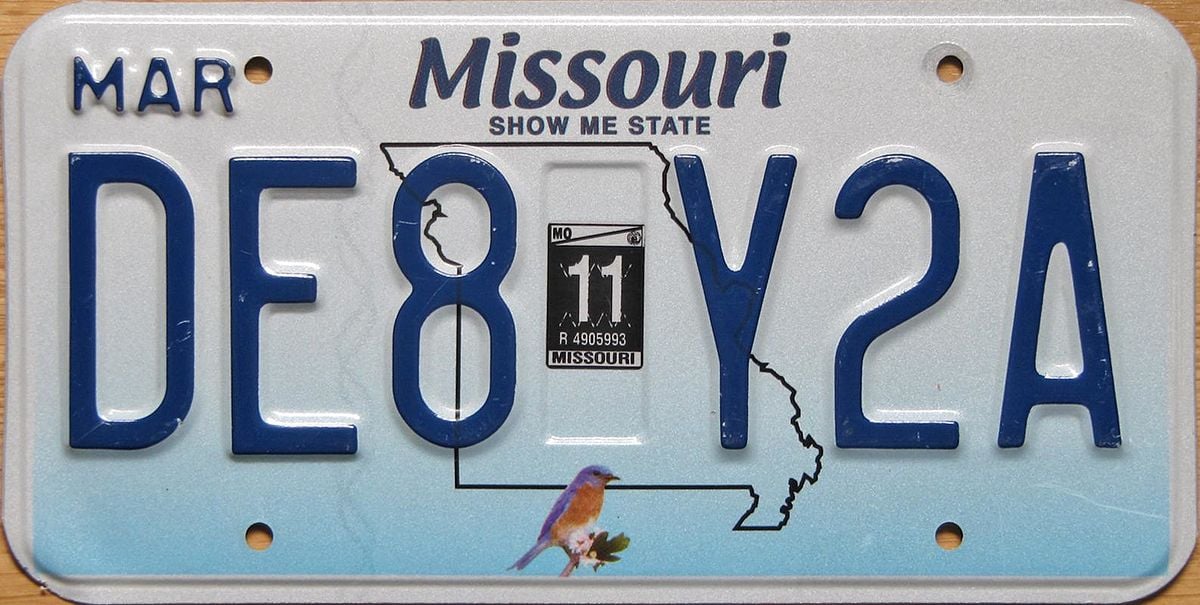 You are given a 30-day grace period to register and title a vehicle after purchasing it or after establishing residency. Failure to comply before the due date is fined $25. The fine increases by $25 each month the car remains titleless. Missouri plate's official serial format contains four letters and two numerical digits. Missouri is among the many states which issue two license plates for each vehicle unit. One on the front, another on the rear.
 Fill out the application form to request a replacement plate/tab. Follow the instructions written on the form to process your request.
Category of Missouri License Plate
There are four (4) plate types available in Missouri. Read the description of each plate as requirements may vary.
Standard

Collegiate

Military

Specialty
For an in-depth information about plate types, read the Personalized and Specialty License Plates page.
Transferring of License Plates in Missouri
To process your request for plate transfer, bring the requirements to any Missouri license office.
More Resources for Missouri Drivers:
Buying a used car in Missouri?  Don't make a costly mistake. Run a Free License Plate Lookup for your Missouri-registered vehicle!
Check for accidents

. Every year, approximately 6.0 million automobile accidents are reported by the National Highway Traffic Safety Administration.

Check for title brands

. Flood, hail-damage, and salvage titles are examples of critical title brands.

Check for special purpose designations

, including taxi-use, rental-use, or police-use.

Check for thefts.

Lookup a VIN to check for an active theft or previously recovered theft record.
Run a Free Missouri License Plate Lookup to uncover the full-story of your Missouri-registered vehicle.