Ohio Free License Plate Lookup
Countless vehicles were sold with copied VINs from other cars with similar specifications. As a result, many buyers fell for this scam. To prevent this, use the Ohio free license plate lookup to show real vehicle information associated with an Ohio plate.
VinCheck.info offers free license plate lookup that will reveal past ownership, title information, liens, odometer reading and salvage records. Search license plates registered in the state of Ohio:
You may also send a record request form to the Ohio Bureau of Motor Vehicles, the state's official license plate provider, to get the car details you need. For inquiries, contact the agency at (844) 644-6268 or through any of the following means: chat, email, other numbers, or mail.
Ohio License Plates & Placards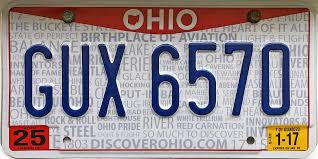 To title your car, fill out the application form and follow the instructions written on it. Comply with the requirements and submit the needed documents to any Ohio deputy registrar license office. Owners have 30 days to have their vehicles titled in their names upon purchase or ownership transfer. In addition, a state-approved car insurance is required to drive a vehicle in Ohio. If you owned a car under age 26 and you are a resident of any of the following counties: Cuyahoga, Geauga, Lake, Lorain, Medina, Portage, and Summit, your car needs to undergo vehicle testing every two years. In general, the Ohio Bureau of Motor Vehicles offers license plates with three letters and four numbers for passenger cars. Each car is given two plates intended for display on its front and rear.
Request a replacement/duplicate for your lost or mutilated plate by filling out the application form. It may take four weeks to process your request.
Ohio Specialized Interest Plates
There are seven (7) specialized plate types available for you to choose:
See the General Information page for more information about personalized/specialized license plates.
Transferring of License Plates in Ohio
A request to transfer a plate can be done by filling out the request form. Follow the instructions correctly to process your request. Each plate transfer between cars costs $4.50.
More Resources for Ohio Drivers:
Buying a used car in Ohio?  Don't make a costly mistake. Run a Free License Plate Lookup for your Ohio-registered vehicle!
Check for accidents

. Every year, approximately 6.0 million automobile accidents are reported by the National Highway Traffic Safety Administration.

Check for title brands

. Flood, hail-damage, and salvage titles are examples of critical title brands.

Check for special purpose designations

, including taxi-use, rental-use, or police-use.

Check for thefts.

Lookup a VIN to check for an active theft or previously recovered theft record.
Run a Free Ohio License Plate Lookup to uncover the full-story of your Ohio-registered vehicle.