Free Ford VIN Decoder
Run a free Ford VIN Decoder and get all the information about your Ford vehicle. VinCheck.info's offers VIN decoder which can be used to determine everything from vehicle body and drive type to fuel tank capacity to vehicle safety rating. Enter your Ford VIN below and click on the Decode VIN button to start your vehicle research.

Can't find the VIN?
Ford Recall Lookup by VIN
Approximately 36,000 Ford vehicles equipped with defective Takata air bags are under recall. The recall covers the 2006 model year Ford Ranger vehicles. According to the recall, the airbag inflators pose a higher risk of exploding in the event of a crash. The affected vehicles are being recalled to replace faulty Takata airbag inflators.
All vehicle owners will receive a letter from Ford notifying you of the recall. When you receive the letter, please contact your local dealer to schedule a service appointment, dealers will repair recalled vehicles free of charge. Check to see whether your vehicle has an open recall, do a free VIN check on our online tool to determine if your Ford vehicle is under recall. Visit the NHTSA website for additional information on Takata airbag inflator recall issue or contact Ford Customer Relationship Center in the U.S. at 866-436-7332.
Search for Ford safety recalls announced in the past 15 calendar years using the VIN.
How to Decode a Ford VIN?
Check out the VIN decoding diagram below to see how each digit or section in the 17-digit string is decoded.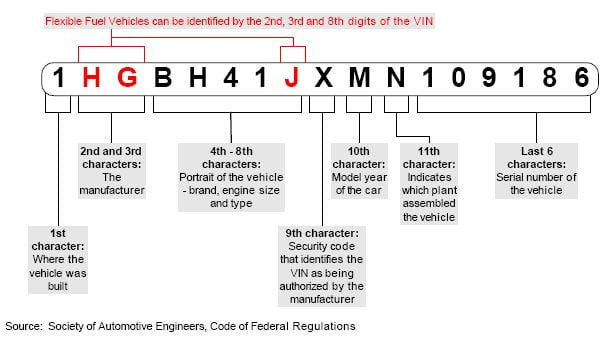 Each character or set of characters within a Ford VIN indicates specific vehicle information including the vehicle's model and model year, make, where it was manufactured, and more.
Here is a sample Ford VIN, 1FDXF46S12EC58316, which we have decoded using the diagram above and the Ford decoding chart.
1 = Country of manufacture (United States)
F = Manufacturer (Ford)
D = Vehicle Type (Incomplete Vehicle)
X = Restraint Type
F46 = Model (Ford F-Series, F-450, Regular Cab, 2WD)
S = Engine Type (6.8 SOHC SEFI V10; Gasoline 275HP)
1 = Security Code
2 = Model Year (2002)
E = Plant (Kentucky, USA)
C58316 = Production Sequence
VinCheck.info's free Ford VIN decoder instantly provides more than these vehicle specifications plus a full vehicle history report. We also provide information on the market value, equipment details, fuel efficiency, safety rating, current warranty, recalls and defects of a Ford vehicle.
Ford Parts and Accessories Lookup
Whether you're looking for a set of brake discs, oil filters or flywheels for your Ford vehicle, search by VIN and find the right part for your vehicle at the Ford online store. Ford produces high quality original parts that are designed to fit and enhance your Ford vehicle perfectly.
Resources for Ford Vehicle Owners
Why should I use a Ford VIN Decoder?
Check for basic vehicle data available prior to purchase.
Check for the vehicle's build to know the matching parts in case of replacement or repair.
Check for consistency of vehicle information from vehicle documents or disclosed by the seller.
Check for fake VIN or cloned VIN. Look out for red flags indicating that the VIN is not for the car or the vehicle you are buying.
Check out VinCheck.info resources on Ford which could be important to you as an owner or as a buyer. For more interesting facts about Ford, Ford vehicles or to get a free Ford vehicle history report, visit our Ford VIN Check page.
Enter your VIN below and run a Free Ford VIN decoder in seconds!