Texas Free License Plate Lookup
All vehicles operated on Texas highways must be registered in the owner's county of residency. An owner must register a newly purchased vehicle within 30 days of purchase. New residents registering a vehicle must obtain a Texas vehicle inspection report an2d verification of the vehicle identification number (VIN) by a state-approved vehicle inspection station prior to registration.
VinCheck.info offers free license plate lookup that will reveal past ownership, title information, liens, odometer reading and salvage records. Search license plates registered in the state of Texas:
Texas License Plates & Placards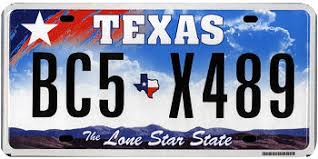 You must register your vehicle in the county where you currently live. After completing registration process, a registration sticker will be issued that must be displayed on the vehicle's windshield or on the rear license plate of a motorcycle or moped.
As part of your vehicle registration, the department will assign a set of general-issue license plates. The plate number designated to you by TxDMV cannot be personalized. Texas law requires vehicles to have a front and rear license plate.
If a license plate is lost, stolen, or mutilated, an application for a replacement plate must be completed (VTR-60 Application for Replacement License Plate(s), and/or Vehicle Registration Sticker) and payment of the required fee. Replacement plates are available through your local county tax assessor-collector's office.
Antique, Classic & Custom Vehicle/Street Rod

Colleges and Universities

Fraternities/Sororities

High Schools

Military & Veterans

Occupational

Organizations

Other Vehicle Types

Sports/Hobbies
Transferring of License Plates in Texas
You may transfer your plates to your new vehicle. Your local county tax assessor-collector's office will issue a new registration sticker for your vehicle. Remove the registration sticker on your old vehicle when you detach the plates.
More Resources for Texas Drivers:
Buying a used car in Texas?  Don't make a costly mistake. Run a Free License Plate Lookup for your Texas-registered vehicle!
Check for accidents.

Every year, approximately 6.0 million automobile accidents are reported by the National Highway Traffic Safety Administration.

Check for title brands.

Flood, hail-damage, and salvage titles are examples of critical title brands.

Check for special purpose designations

, including taxi-use, rental-use, or police-use.

Check for thefts.

Lookup a VIN to check for an active theft or previously recovered theft record.
Run a Free Texas License Plate Lookup to uncover the full-story of your Texas-registered vehicle.