Free Toyota VIN Decoder
Our free Toyota VIN decoder can be used to determine everything from vehicle body and drive type to fuel tank capacity to vehicle safety rating. Learn what each character in your VIN means. Enter your Toyota VIN below and click on the Decode VIN button to start your vehicle research.
Can't find the VIN?
Toyota Recall Lookup
According to a study by iSeeCars.com, from January 1985 to September 2016, Toyota's recall rate per 1,000 cars is 1,028. With more than 52 million cars recalled, Toyota ranked 8th among manufacturers with the worst recall rates.
If you own a Toyota vehicle manufactured between 2003 and 2013, your vehicle may be subject to a Takata airbag recall. See if your vehicle is affected by a safety recall. Run a VIN check to determine if your vehicle is involved in the Takata airbag recall. If your vehicle is subject to a recall, the front Passenger airbag will be replaced at no charge to you at an authorized Toyota Dealer.
Search for Toyota safety recalls announced in the past 15 calendar years using the VIN.
How to Decode a Toyota VIN?
Check out the VIN decoding diagram below to see how each digit or section in the 17-digit string is decoded.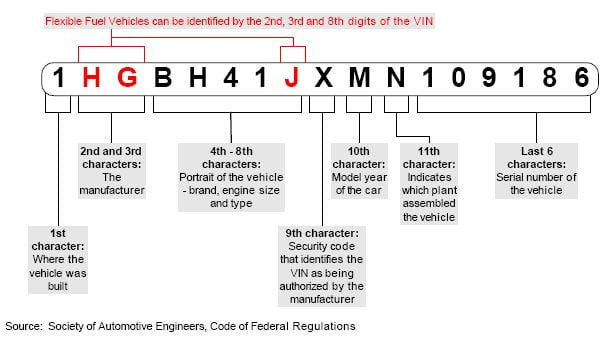 Each character or set of characters within a Toyota VIN indicates specific vehicle information including the vehicle's model and model year, make, where it was manufactured, and more.
Here is a sample Toyota VIN, 5TENL42N94Z436445, which we have decoded using the diagram above and the Toyota decoding chart.
5 = Country of manufacture (United States)
T = Manufacturer (Toyota)
E = Vehicle Type (Multipurpose Passenger Vehicle (SUV)
N = Body (Standard Cab 1/2 Ton Truck, 2WD, Short Bed, Full-Size Frame)
L = Engine (2RZ-FE)
4 = Series
2 = Restraint (Manual Belts w/2 Airbags)
N = Model (Tacoma)
9 = Security Code
4 = Model Year (2004)
Z = Plant (Fremont, CA, US)
436445 = Production Sequence
VinCheck.info's free Toyota VIN decoder instantly provides more than these vehicle specifications plus a full vehicle history report. We also provide information on the market value, equipment details, fuel efficiency, safety rating, current warranty, recalls and defects of a Toyota vehicle.
Toyota Parts and Accessories Lookup
You can shop genuine Toyota parts & accessories from Toyota Parts Online. Search by VIN to see parts & accessories you need specific to your vehicle. Genuine Toyota parts are made for exact models and are designed to keep your vehicle function at its highest level of performance.
Resources for Toyota Vehicle Owners
Why should I use a Toyota VIN Decoder?
Check for basic vehicle data available prior to purchase.
Check for the vehicle's build to know the matching parts in case of replacement or repair.
Check for consistency of vehicle information from vehicle documents or disclosed by the seller.
Check for fake VIN or cloned VIN. Look out for red flags indicating that the VIN is not for the car or the vehicle you are buying.
Check out VinCheck.info resources on Toyota which could be important to you as an owner or a buyer. For more interesting facts about Toyota, Toyota vehicles or to get a free Toyota vehicle history report, visit our Toyota VIN Check page.
Enter your VIN below and run a Free Toyota VIN decoder in seconds!