Free Dodge VIN Decoder
VinCheck.info offers free Dodge VIN Decoder which allows you to obtain a vehicle's information instantly. Enter Decode any Dodge car below to reveal original specifications and other vehicle information.
Can't find the VIN?
Dodge Recall Lookup
Around 434,561 cars belonging to Dodge's Challenger, Charger, and Durango models have faulty alternators that may stall engines. According to the report of NHTSA,  If the engine stops running while driving, unavoidable vehicle collisions might happen.
Aside from running a free VIN decoder, remember to check for any recall update about your own and other cars that interest you. Resolve any recall problem for free at any authorized Dodge dealership.
Use the free VIN Lookup below to check for any safety recall.
How to Decode a Dodge VIN?
Check out the VIN decoding diagram below to see how each digit or section in the 17-digit string is decoded.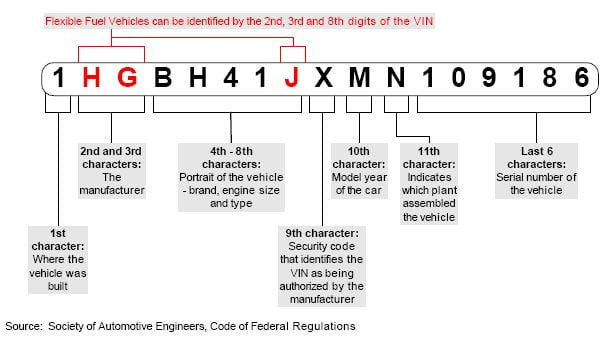 Each character or set of characters within an Dodge VIN indicates specific vehicle information including the vehicle's model and model year, make, where it was manufactured, and more.
Here is a sample Dodge VIN, 1B3HB28B98D723818, which we have decoded using the diagram above and the decoding charts available.
1 – Country (USA)
B – Manufacturer (Dodge)
3 – Vehicle Type (Passenger Car)
HB28B – Description (Touring/4DR/Sedan/Chrysler 200)
9 – Check Digit
8 – Model Year (2008)
D – Assembly Plant (Belvidere, Illinois)
723818 – Production Sequence Number
VinCheck.info's free Dodge VIN decoder instantly provides more than these vehicle specifications plus a full vehicle history report. We also provide information on the market value, equipment details, fuel efficiency, safety rating, current warranty, recalls and defects of an Dodge vehicle.
Dodge Parts and Accessories Lookup
On the Dodge online shop, search the VIN or specify the car model to look for the right parts and accessories for your car. Parts related to electronics, performance, and interior and exterior features are available.
Resources for Dodge Vehicle Owners
Why should I use a Dodge VIN Decoder?
Check for basic vehicle data available prior to purchase.
Check for the vehicle's build to know the matching parts in case of replacement or repair.
Check for consistency of vehicle information from vehicle documents or disclosed by the seller.
Check for fake VIN or cloned VIN. Look out for red flags indicating that the VIN is not for the car or the vehicle you are buying.
Check out VinCheck.info resources on Dodge which could be important to you as an owner or a buyer. For more interesting facts about Dodge, Dodge vehicles or to get a free Dodge vehicle history report, visit our Dodge VIN Check page.
Enter your VIN below and run a Free Dodge VIN decoder in seconds!