VIN Check By State – Search by VIN or License Plate
Buy any used car from anywhere in the United States with confidence. Thanks to the vast network of information sources, the government agencies and organizations in the auto industry, you can obtain data on any vehicle from anywhere in the country. VINCheck.info taps into this network to give you access to a comprehensive VIN check free of charge.
Click on a specific state on the map below to know more about vehicle-related statistics in your state or where your target vehicle is coming from.

The map above also shows how the rate of motor vehicle theft vary across the country.
Natural disasters, accidents and thefts
You can safely buy a used car from any state as long as you exercise due diligence in verifying the history and the condition of the car. By doing a VIN search, you can confirm whether the information disclosed by the seller is consistent with the vehicle history. A car registered in your state may have been previously registered and used in another state where it might have been involved in a crash, damaged by flood or stolen.
Remember that some cities and states are more vulnerable to disasters or have higher incidence of auto thefts and accidents. The interactive map above also shows how motor vehicle theft rate vary across the country. Some vehicles stolen in New Mexico (with over 500 vehicles stolen per 100,000 inhabitants), for example, may be transported and sold outside the state.
Check the map below for the 10 states that have experienced the most flood-related disasters that have been officially declared by the federal government. The map below shows that most of the major flooding happened inland. Only Alabama and Mississippi along the coast were included in the list. Thousands of flood-damaged cars in these states will be restored and then offered in other states to people who may not be aware of the vehicles' past. Flooded cars were already in the market even before Hurricanes Harvey and Irma left over 500,000 water-damaged cars in 2017.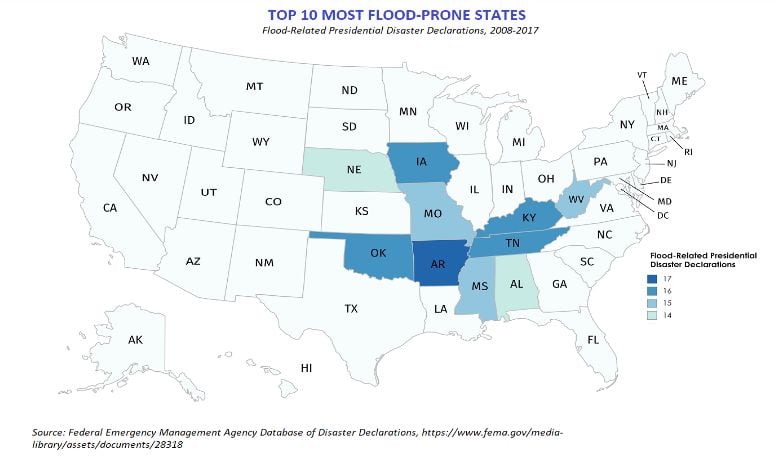 Vehicles involved in fatal crashes may also get a second chance in the resale market. Data below shows the states with the most and the least number of fatalities among passenger car and light truck occupants in 2016. These vehicles may also get fixed and then sold by dealers or sellers who won't disclose the car history to the buyer.Title branding designation and criteria
Fatalities by State, Passenger Cars and Light Trucks, 2016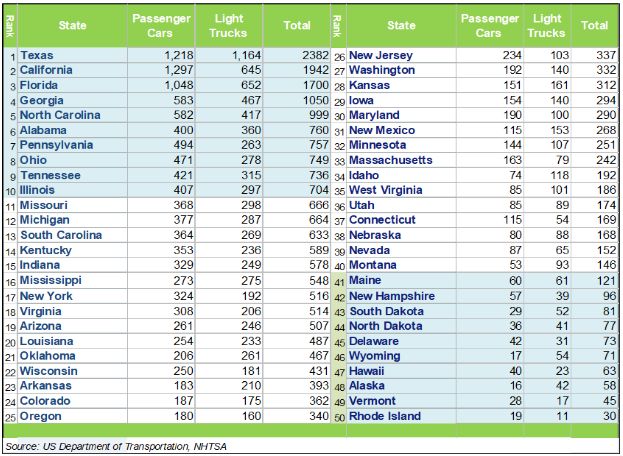 Title branding designation and criteria
Title brands are important factors to consider when buying a used vehicle because these designations alert buyers or future owners about damage to a vehicle due to a crash, disaster or theft. However, vehicle title branding programs differ widely across jurisdictions. Standards for defining a brand are not the same; in fact, states may have their own set of  title brands. One state may use the "rebuilt" brand for a salvaged vehicle that has been rebuilt or restored while another state uses the general "salvage" brand for a vehicle with the same condition. Auto insurers usually decide when to declare salvage status, but some states have specific statutory regulations governing salvage branding.
In 2017, Florida and Texas were hit hard by Hurricanes Irma and Harvey which were among the costliest hurricanes in US history. Every week, over 17,000 flood-damaged cars are re-entering the auto market after the onslaught of Hurricane Harvey and almost 23 percent are successfully sold. Though both states mandate branding of affected cars specifically as flood-damaged, it's highly probable that many of these cars are now "title-washed" and offered in other states as "clean" or not branded. Title washing takes advantage of less strict or absence of regulations governing flooded cars in other states.
Auto Insurance Laws
States may differ in terms of who will cover the medical bills and lost earnings after a crash. In no-fault states, the insurer covers it regardless of who was at fault or the auto owners are required to have Personal Injury Protection (PIP) insurance. For car repairs, all states require that the at-fault driver pay the cost.
Most states require car owners to have auto insurance. Only New Hampshire and Virginia do not require it, but the driver who is at fault would still be liable. Most states offer alternatives to car insurance such as bonds or cash deposits.
How do states differ in terms of the total loss threshold for designating "salvage" status? The table below shows that thresholds range from 50 to 100 percent. A car with damage totaling 50 percent of its value is declared a total loss in Iowa, but not in Texas where the threshold is 100 percent. States with no specific threshold apply a total loss formula (TLF) which includes cost of repairs, scrap value and pre-accident value.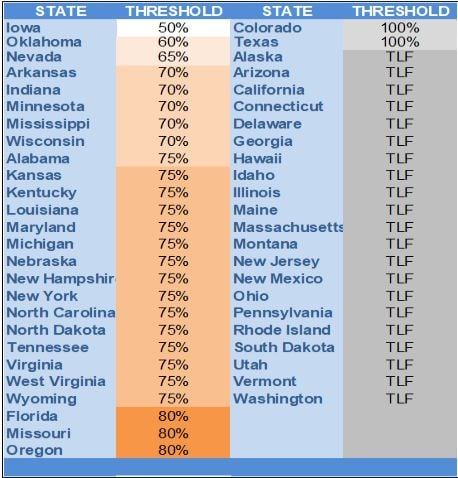 The VINCheck.info vehicle history report is a great tool for evaluating a used car wherever you are and wherever the vehicle comes from. Our 100% free VIN check scans and cross-checks vehicle records from different jurisdictions across the US to give you the full story about any car.   
Visit our VIN Check by State pages to access some basic resources that you may need to evaluate your options better:
For your state-specific concerns: Vehicle Title Request, Statistics on Accidents, Thefts and Disasters, State Department of Motor Vehicle (DMV), Emissions and Safety Inspection Locations.
For your vehicle-specific concerns: Vehicle Safety Ratings, Vehicle Recalls by VIN, Automotive Market Values, and Automotive Reviews.