Free Florida VIN Check
Buying a used car with major issues can be expensive and can lead to major headaches. Reason why it is important to review the vehicle history. Run a free VIN lookup. Protect yourself, whether you are buying from Florida or from out of state. Take note of the VIN and run a Florida VIN Check and get a complete vehicle history. Search over 16 million cars registered in Florida to make sure you are buying a good one!
VinCheck.info gathers information on thefts, accidents, sales, titles, specifications, and more from official US government sources across the country. These information are collated into a database to provide free vehicle history to the public. Search based on the 17-digit VIN or the license plate number.
Florida Vehicle Information Request
Similarly, Florida DMV offers Vehicle Information Check. Enter the title or the VIN of your Florida-vehicle to conduct a VIN search.
How do you check if a car is stolen in Florida?
Use the Vehicle Identification Number or License Plate Number or Owner Applied Number.
Run a search for stolen vehicles on The Florida Crime Information Center database provided by Florida Department of Law Enforcement (FDLE). The page contains records of stolen vehicles as reported by law enforcement agencies throughout the state.
VIN Inspection and Odometer Reading in Florida
VIN verification is required for all used motor vehicles previously titled or registered in another state or country. Vehicle owners should complete and submit Form HSMV 82042, Vehicle Identification Number & Odometer Verification to a Florida Tax Collector's office located in the applicant's county or residence for processing.
Physical inspection of the VIN must be done by one of the officials listed below:
A law enforcement officer from any state.
A licensed Florida or out of state motor vehicle dealer.
A Florida DMV Compliance Examiner/Inspector, DMV or tax collector employee.
A notary public commissioned by the state of Florida.
Provost Marshal (an officer who supervises the military police of a command) or a commissioned officer in active military service, with a rank of 2nd Lieutenant or higher or an LNC, "Legalman, Chief Petty Officer, E-7".
If the VIN is verified by an out-of-state motor vehicle dealer, the verification must be submitted on their letterhead stationery.
Florida Resources for Car Drivers/Owners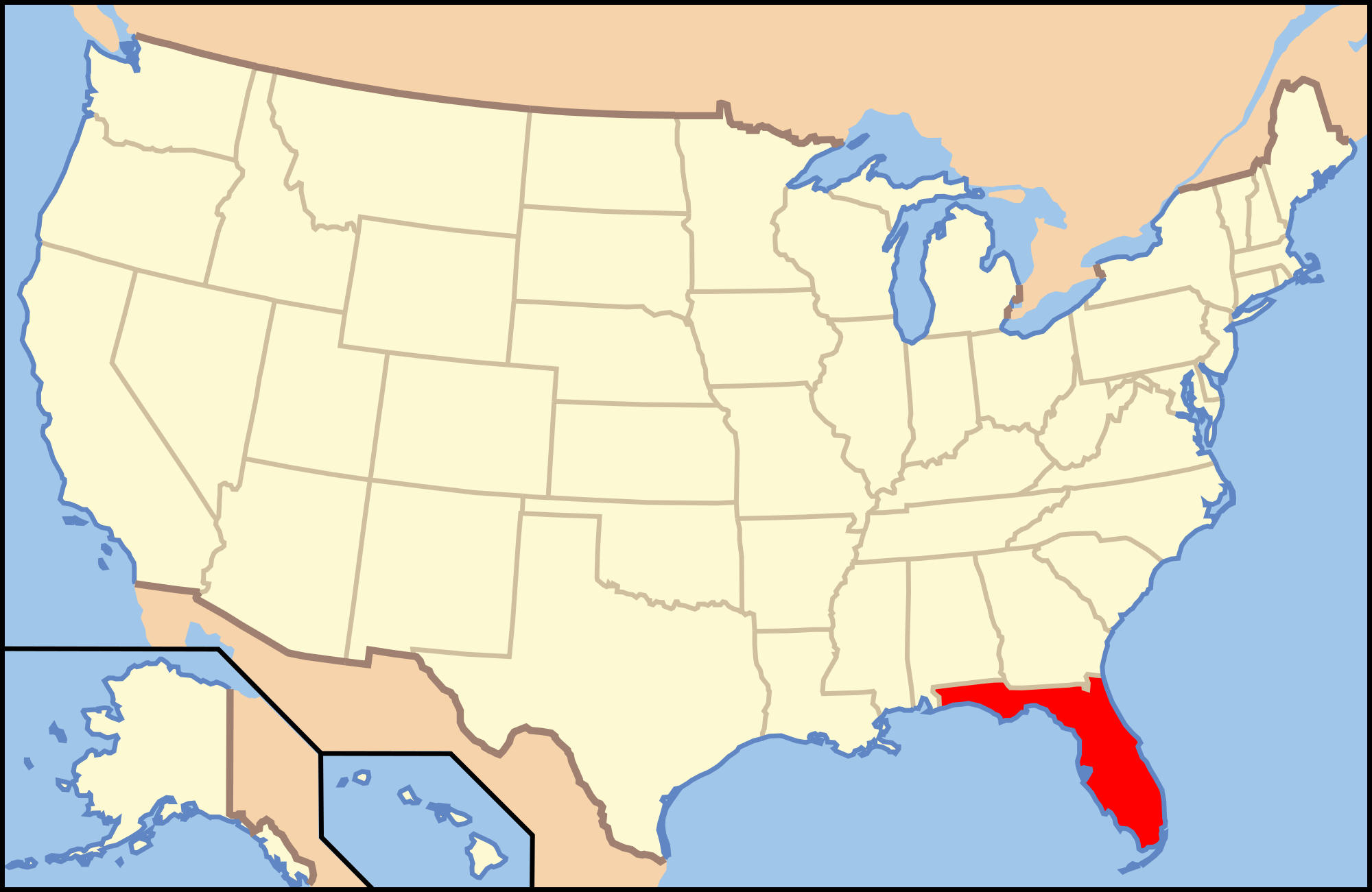 The southernmost state of US Mainland, Florida has 67 counties within its area of 65,755 square miles. In 1845, Florida became the 27th state to join the Union. The Sunshine State is the third most populous state with a population of about 20,612,438. Tallahassee, the capital city, is the state's 7th largest city. Miami is the largest city by population followed by Tampa-St. Petersburg, Orlando, and Jacksonville. Florida is the only continental US state and one of only two states (other than Hawaii) that has a tropical climate.
 Facts and Statistics on Accidents, Theft and Disasters
Traffic Safety Performance (Core Outcome) Measures*

*Source The National Highway Traffic Safety Administration (NHTSA)
and the Governors Highway Safety Association (GHSA) (See Publication: DOT HS 811 025)
**2017 State Vehicle Miles Traveled (VMT) Data is Not Yet Available
***Based on the Highest BAC of a Driver or Motorcycle Rider Involved in the Crash
****Florida Data: State Survey
*****On March 11th, 2014 GHSA and NHTSA agreed on bike fatalities as a newly required performance core measure
Other Resources:
DMV Locations
Why should I run a Florida VIN Check?
Check for accidents. Some vehicles in Florida are damaged in accidents and declared as salvage or rebuilt. The VIN must be verified to see if vehicles are proven to be safe for use on the road.
Check for title brands. Avoid used car fraud, beware of title-washing where the titles are altered to hide the car's legal status and sell the vehicle as "clean" or regular used vehicles. Flood, hail-damage, and salvage titles are examples of critical title brands.
Check for special purpose designations, including taxi-use, rental-use, or police-use.
Check for thefts. According to the 2017 Hot Wheels Report by NICB, the most stolen vehicle in Florida is a 2006 Ford Pick-up truck (Full Size). Protect yourself against buying a stolen vehicle by running a VIN search and make sure that everything matches up.
Run a Florida VIN Check to uncover the full-story of your next vehicle.