Indiana VIN Check
Vehicle registration requirements in Indiana include odometer disclosure and vehicle inspection. This is partly done to ensure that the state has a record of the relevant information of the vehicle you own and operate. When you're buying a used car, in the state or from somewhere else, you need to know that the specifications declared by the seller are consistent with the actual condition of the car before you close the deal.
Run a free Indiana VIN check and look up existing records about the car from over millions of registered cars in the United States, including up 2.3 million cars registered in Indiana:
VinCheck.info gathers information on thefts, accidents, sales, titles, specifications, and more from official US government sources across the country. These information are collated into a database to provide free vehicle history to the public. Search based on the 17-digit VIN or the license plate number.
Indiana Title Request
To get vehicle title information, access the BMV Title and Lien Search tool at In.Gov (Indiana's official website). Search by title number and social security number or VIN and social security number.
To access this tool, you must be an In.Gov account holder. The annual subscription fee of $95 covers ten (10) user names and passwords. Account holders will be charged $5.00 per record for vehicle title information. Generally, an account holder will be given basic access which excludes personal information.
Indiana Resources for Car Drivers/Owners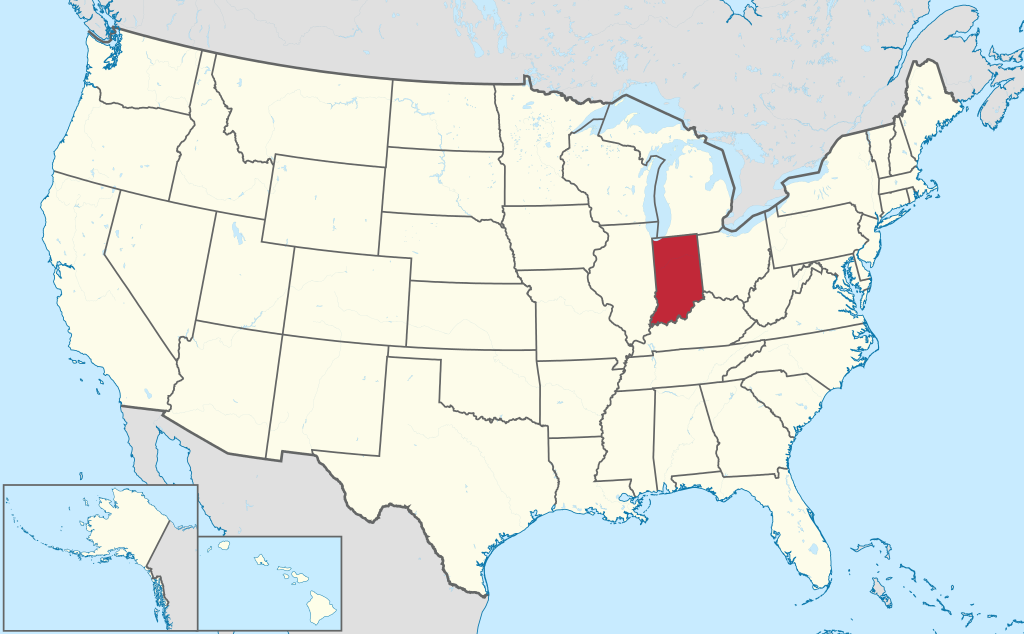 Located in the Midwestern and Great Lakes regions of North America, Indiana is the 19th state to join the Union and now the 17th most populous state. The largest cities are Indianapolis (capital), Fort Wayne, Evansville, South Bend, and Carmel.
Indiana ranks third in the country for car and truck production which provides jobs for over 100,000 residents. The Indiana automotive industry's contribution to the state's GDP (more than more than $15 billion) is the second highest in the US.
Statistics on Accidents, Theft and Disasters:
Number of cars registered as of 2016: 2,330,172
Motor Vehicle Accidents (Indiana Criminal Justice and Insurance Institute for Highway  Safety-High Loss Data Institute or IIHS-HDLI)

911 traffic fatalities and 3507 cases of incapacitating injuries were reported in 2017.
A total of 768 fatal crashes resulting in 821 deaths were reported in 2016.
Car occupants represent 42% of the total number of fatalities, followed by pickup and SUV occupants (27%).

Motor Vehicle Theft (FBI's 2016 Crime in the US report)

222.1 thefts were recorded for every 100,000 inhabitants.
On average, there were 40.35 motor vehicles stolen per day.

Natural Disasters / Hazards
Other Resources:
1. Indiana Department of Motor Vehicles
2. Emissions and Safety Inspection Locations
3. Vehicle Safety Ratings
4. Vehicle Recalls by VIN
5. Automotive Market Values
6. Automotive Reviews
Why should I run an Indiana VIN Check?
Check for accidents. Every year, approximately 6 million automobile accidents are reported by the National Highway Traffic Safety Administration.
Check for title brands. Flood, hail-damage, and salvage titles are examples of critical title brands that you need to watch out for before buying a used car.
Check for special purpose designations, including taxi-use, rental-use, or police-use.
Check for thefts. Check for an active theft or previously recovered theft record by VIN search to make sure you are not buying a stolen car or a car with stolen parts.
Run VINCheck.info's free VIN check now to uncover the full story of your next vehicle: