Free Georgia VIN Check
In Georgia, like other states, odometer disclosure is a requirement for completing registration paperwork for vehicles less than 10 years old. It is an important step in the prevention of odometer fraud which is usually done in conjunction with other crimes like car theft and title washing.
Check for odometer discrepancies while shopping for a used car. Run a free VIN check and search over 3,000,000 cars registered in the state of Georgia or hundreds of millions registered in the United States:
VinCheck.info gathers information on thefts, accidents, sales, titles, specifications, and more from official US government sources across the country. These information are collated into a database to provide free vehicle history to the public. Search based on the 17-digit VIN or the license plate number.
Georgia Vehicle Information Request
The Georgia Department of Revenue has a free VIN lookup tool called VIN Status Check for checking the status of a vehicle's registration and insurance:
This Georgia Department of Revenue system, listed as a top Motor Vehicle Division (MVD) online service, is intended exclusively for use by authorized users only. You may need to set up an account to access to the tool.
Georgia Resources for Car Drivers/Owners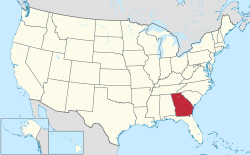 The State of Georgia, the 4th state to join the Union, is located in the Southeastern part of the United States. The country's 8th most populous state (population of 10,310,371), Georgia has 59,425 square miles of area that consists of 59 counties. Georgia's most populous cities are Atlanta (capital), Columbus, Savannah, Athens, and Sandy Springs.
Statistics on Accidents, Theft and Disasters
Other Resources:
Why should I run a Georgia VIN Check?
Check for accidents. Every year, about 6 million car accidents are reported by the National Highway Traffic Safety Administration.
Check for title brands. Flood, hail-damage, and salvage titles are examples of critical title brands.
Check for special purpose designations, including taxi-use, rental-use, or police-use.
Check for thefts. Lookup a VIN to check for an active theft or previously recovered theft record.
Run a Georgia VIN Check to uncover the full-story of your next vehicle.